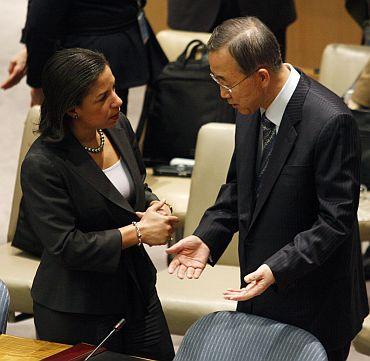 As an unrepentant Muammar Gaddafi refused to heed global calls for an end to violence in Libya, the United Nations Security Council on Sunday unanimously slapped "biting sanctions" on his regime, including a travel ban and asset freezes, with United States President Barack Obama saying the strongman must quit now.
Denouncing the violence against anti-government protesters in Libya, India and 14 other members of the powerful UNSC unanimously voted to impose sanctions on the Gaddafi regime in the form of an arms embargo, asset freezes, travel ban and an immediate referral to the Hague-based International Criminal Court for crimes against humanity probe.
The vote came amid escalating violence in the North African country, with the UN saying that more than 1,000 pro-democracy protesters have lost their lives in the brutal crackdown launched by forces loyal to Gaddafi to crush the revolt against his authoritarian rule.
"We deplore the use of force, which is totally unacceptable," Hardeep Singh Puri, India's ambassador to the UN, said at the council after the resolution was approved. "We also have concerns about the safety of India nationals and their assets in Libya," he added.
Susan Rice, the US envoy to the UN, pointed out that this was the first time a resolution referring a case to the ICC had passed unanimously. She said the council wanted "biting sanctions" targetting Libya's leadership.
In a desperate bid to quell the unprecedented two-week revolt against Gaddafi's 41-year rule, the Libyan regime passed out guns to his civilian supporters, set up checkpoints and sent out armed patrols across his bastion of Tripoli, witnesses were quoted as saying by the Al-Jazeera.
The development came hours after 68-year-old Gaddafi vowed to crush the rebellion against his rule and proposed to arm his supporters. "We can defeat any aggression if necessary and arm the people," he said in footage aired on Libyan state television. "I am in the middle of the people. We will fight; we will defeat them if they want. We will defeat any foreign aggression."
Across Libya, protesters braced up for a potentially lengthy battle to overturn the regime, even as reports said the army in several areas had turned hostile to the government. Footage believed to be filmed on Saturday showed soldiers joining the protesters in the city of Az Zawiyah.
Libya's former interior minister Gen Abdul Fatteh Younis told Al Jazeera that most of the country is out of control of the Gaddafi government and his grip on power may soon be confined only to the capital Tripoli. Younis said he has called on Gaddafi to end his resistance to the uprising, although he does not expect him to do so.
In Washington, Obama telephoned German Chancellor Angela Merkel to discuss the deteriorating situation in Libya.
"The President stated that when a leader's only means of staying in power is to use mass violence against his own people, he has lost the legitimacy to rule and needs to do what is right for his country by leaving now," the White House said in a statement after the telephonic conversation between Obama and Merkel.
Asserting that Gaddafi has lost the confidence of his people, US Secretary of State Hillary Clinton said it is time that the Libyan leader quits without further bloodshed and violence. "We have always said that the Gaddafi government's future is a matter for the Libyan people to decide, and they have made themselves clear," she said in a statement.
Several western countries have evacuated their embassy staff and other foreign nationals from Libya in secret military operations and temporarily closed their diplomatic missions there. Over 130 foreigners, among them dozens of Germans and European Union  nationals, were flown out of Libya on Saturday by two German military aircraft in a daring operation in which armed soldiers were reportedly involved.
The rescue operation, without the permission of the Libyan authorities, was approved by German Chancellor Angela Merkel and Defence Minister Karl-Theodor zu Guttenberg. The US, Canada, Britain and France have temporarily closed their diplomatic missions in Tripoli after evacuating their ambassadors and embassy staff, media reports said.
British Defence Secretary Liam Fox said two Royal Air Force C130 Hercules aircraft landed in the desert near Benghazi in a secret operation and evacuated about 150 workers of British and other nationalities and they were flown to Malta.
The Canadian embassy in Tripoli also suspended its operation after its ambassador, five embassy staff, 18 other Canadians, 12 British nationals and the Austrian embassy staff were evacuated on board a military aircraft, which had no permission to land in Libya.
In Paris, the French foreign ministry said its embassy in Tripoli was closed down temporarily after its ambassador and the entire embassy staff were evacuated on board a French air force plane. The aircraft carried 128 foreigners, including 28 French nationals and the entire embassy staff.
Libya's former justice minister Mustafa Mohamed Abud Ajleil, meanwhile, reportedly said that he had formed a transitional government based in the eastern city of Benghazi, which would lead the country for three months to prepare for elections. He said the transitional government includes military as well as civilian representatives.

Image: United Nations Secretary General Ban Ki-moon speaks to US Ambassador to the UN Susan Rice before voting on a resolution during the UNSC meeting on Libya at UN headquarters in New York | Photograph: Joshua Lott/Reuters