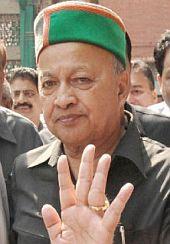 In the chronically underdeveloped Shimla Rural segment from where charismatic state Congress chief Virbhadra Singh is fighting elections, corruption appears to be a non-issue after the five-time former Himachal chief minister was hit by graft allegations.
Steeped in feudal mindsets, the voters of this vast segment, spread across swathes of barren land, remain conscious of their loyalty to former royals, who are playing the personal and developmental cards to the hilt to win the electoral battle for the family patriarch Virbhadra Singh and his party.
"Raja to raja hain ji....unko kya farak padta hai, woh to jitenge hi" (A king is a king; how is he affected? He will win)", quips Ram Chand, a local cab driver, when asked what he thought of the recent corruption allegations the Bhartaiya Janta Party had levelled against the Congress veteran.
78-year-old Virbhadra Singh is a former ruler of Rampur Bushahr family.
Ram Chand's sentiment finds a resonance across villages when a visiting PTI correspondent crisscrossed this newly carved constituency where Virbhadra Singh has campaigned only once since elections for the 68-member Himachal Assembly were announced.
Confident of romping home to victory in the November 4 polls, the state Congress chief has left his election management to wife Pratibha, a former MP and son Vikramaditya
Singh, who are both busy engaging with the locals at a personal level, asking them to oust Chief Minister Prem Kumar Dhumal, whom they term as the "outsider".
Seven candidates are in the fray including BJP's Ishwar Singh Rohal, Shimla Block Development Committee Chairman and a former BJP councillor Gaurav, now contesting from the Himachal Lokhit Party, a fledgling grouping of BJP rebels.
"No development has taken place here. I have remained unemployed despite being educated. Raja Saheb is the CM candidate. Corruption does not affect his stature. He is safe and we hope he will develop the area," says 40-year-old Sanjay Kumar after an election rally at Tutu village.
A cross-section of voters say corruption and price rise may be issues in the rest of the hill state but in Shimla Rural, they won't matter, given the stature of Virbhadra Singh.
As Dumi Chand, a shopkeeper in Dharampur village of the segment puts it, "All politicians are the same. Corruption and inflation affect people elsewhere in Himachal but here they are non-issues. Our concern is development and jobs and a CM candidate can deliver these."
"He (Dhumal) has come from Jalandhar and got a chance to become the CM. His sole objective is to plunder Himachal Pradesh. You have seen the Congress rule in the past and you have to decide what you want," says Pratibha Singh as she addresses an election rally at Nalakh village, starting her day at sunrise.
Unfazed by BJP allegations of payoffs to her husband when he was steel minister by Ispat Group, Pratibha works on the voters' psychology, seeking their blessings and trying to get personal with them.
"You know Raja Saheb more than I do. The BJP is spreading a disinformation campaign against him because the Congress President Sonia Gandhi has chosen him to lead the party. The BJP is afraid as it knows Raja Saheb will win. You must remember you are voting for the future Chief Minister," Pratibha Singh says, urging voters to elect the Congress with huge margins.
She told PTI that her husband will set a record by becoming the state CM for the sixth time. "Only Raja Saheb can win the state for the party. He has a fine rapport will the people. He will set a record," she says.
If the Congress wins and Virbhadra Singh is made chief minister, he will become the longest serving CM of Himachal, beating former stalwart YS Parmar.
The voters, however, are not concerned about records. Reeling under lack of development and employment opportunities, they are rallying behind the royals in the hope of roads, colleges and jobs.
As per state government data, there are about 10 lakh educated unemployed in Himachal.
So they throng the gatherings which Pratibha Singh and Vikramditya address in five to six villages daily. That's the most the campaigners can cover given the tough terrain and the absence of metalled roads in the area.
It is this angst which Virbhadra Singh's family is cashing on. His son Vikramaditya is heard at rallies promising skill development centres to train the youth for jobs.
"We will set up cottage industries, food processing facilities and quality education centres in public private partnership. We won't work like the BJP which has sold off huge chunks of prime land to builders in the name of education," the 23-year-old MA History student at St Stephen's College, New Delhi tells voters of Shimla Rural.
Most candidates in the segment are political lightweights as compared to Virbhadra, who hopes to wind up his canvassing in the state with a huge Congress rally which Sonia Gandhi will address in Shimla on October 30.
On graft charges against his father, Vikramaditya Singh told PTI, "These charges are politically motivated and their timing is highly questionable. We will fight these out in the people's court and the court of law because we believe in democracy. Our fight is against Prem Kumar Dhumal and his corrupt practices."