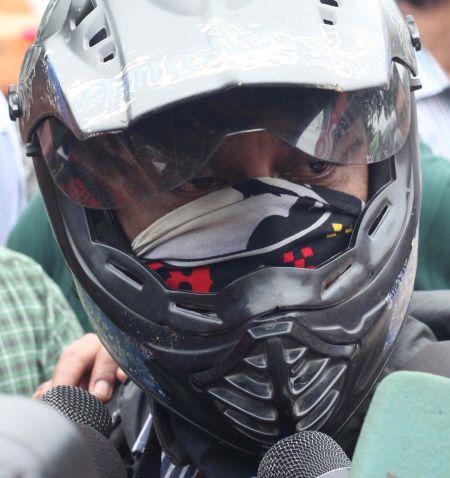 A heartbroken Siddharth Das said he believed Indrani could have killed Sheena. Photograph: Abhiroop Dey Sarkar
Sheena Bora's biological father surfaced on Tuesday for the first time and sought death for her mother Indrani Mukerjea, wife of former Star India CEO Peter Mukerjea, if she had murdered her as skeletal remains purportedly of the 24-year-old were sent for forensic tests.
Kolkata-based Siddharth Das, who according to some accounts was believed to have sneaked to Bangladesh, admitted he was Sheena's biological father though he had never married her mother and said "she should be hanged" if she had committed the murder.
He said Indrani left him in 1989 and they have not been in touch ever since. Das said he came to know about the murder through newspapers and was ready to cooperate in the investigation.
Sheena and her brother Mikhail, who lives in Guwahati, are Indrani's children with Das. "I want her to be hanged, if she killed Sheena.... I am feeling very heartbroken."
"I never married Indrani officially. I met Indrani in college in 1986. She left me in 1989. May be Indrani wasn't satisfied with my state as I did not have a job then," Das said in Kolkata, coming out in the open for the first time since the case hogged media headlines with the arrest of Indrani a week ago.
Das also said he was ready for a DNA test, if required, for confirming Sheena's parentage.
On whether Indrani could have murdered Sheena, he said, "I believe Indrani could do this."
Meanwhile, a senior official of Maharashtra police on Tuesday said the inquiry into the alleged failure of Raigad Police to register an accidental death report after a burnt corpse, purportedly of Sheena Bora, was found in 2012, would consider all facets of the lapses.
On Monday, the metropolitan court had extended the police custody of all three accused -- Indrani, her ex-husband Sanjeev Khanna and driver Shyam Rai -- till September 5.
Investigators probing the case have said Indrani and Sanjeev allegedly placed Sheena's body on the seat of their vehicle as they drove from Mumbai to Raigad to burn and dump it to destroy evidence.
Neither the Mumbai Police Commissioner Rakesh Maria, who was personally involved in interrogation since the arrests, nor the joint Commissioner Deven Bharti visited the Khar police station on Tuesday, where driver Rai and Sanjeev Khanna were present. Indrani is at Santacruz police station.
The inquiry into the alleged failure of Raigad police to register an Accidental Death Report after a burnt corpse, purportedly of Sheena Bora, was found in 2012, would consider "all facets of the lapses by then police officials", Raigad Superintendent of Police Mohammed Suvez Haque said.
"Pen police station got information about a burnt body dumped at the spot on May 23, 2012. Three constables visited the spot and conducted a spot panchnama. A doctor was called in to do a spot port-mortem. The body parts found were then sent to the JJ Hospital in Mumbai," the IPS officer said.
"A station diary entry was made, but no Accidental Death Report was lodged. The inquiry will find out why an ADR was not registered," Haque said.
The SP had recently said a preliminary probe found that the police also did not collect the report from JJ Hospital's anatomy department.
The investigators had on Friday sent a team, which dug the ground at the spot and found a skull and some skeletal remains.
These remains have been handed over to the Kalina-based Forensic Science Laboratory for DNA testing.