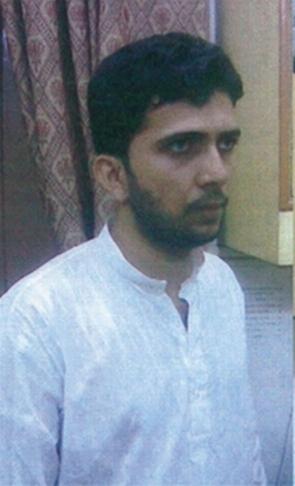 Rediff.com's Vicky Nanjappa -- in a five-part series -- reveals how the Intelligence Bureau and security agencies painstakingly tracked the Indian Mujahideen leadership.

Here's how India's Most Wanted -- Yasin Bhatkal, the IM's co-founder -- was trapped after a six-year chase. The concluding part of the series:
For six years, he was on top of India's most wanted list. A master of disguises who left the security agencies wondering for years if he even existed.

Part I: How IM terrorist Tehsin Akhtar was arrested

Part II: How IM's bomb expert Waqas Ahmed was caught

Part III: How Lashkar's discarded bomb maker was captured

Part IV: How 26/11 handler Abu Jundal was captured

Co-founder of the deadly Indian Mujahideen, Yasin Bhatkal played hide and seek with India's security forces since 2007. It was the Karnataka police who first discovered Mohammed Ahmed Siddibappa, the name Bhatkal was given when he was born.
Along with Riyaz Bhatkal and Iqbal Bhatkal, who also hail from Bhatkal town in coastal Karnataka, Yasin founded the Indian Mujahideen.
His first encounter with terror occurred in Udupi, transporting ammonium nitrate to other parts of the country. In 2008 he moved to Dubai to assist his father's business. Here he established contact with other disgruntled Muslims and went on to become one of India's most dreaded terrorists.
Till the German Bakery bombing in Pune on February 13, 2010, Yasin Bhatkal had security agencies groping in the dark; they were clueless about his whereabouts, and his appearance. All that investigators had as leads were photographs from his youth and a sketch made after vague descriptions from arrested IM terrorists.
The breakthrough came after the German Bakery blasts -- the CCTV footage captured an image of Yasin Bhatkal planting the bomb. After four years, the police could finally put a face to the name.
An adept bomb-maker, Yasin Bhatkal was present at every blast site before the attack, but eluded the police every time.
Along with Tehsin Akhtar, Waqas Ahmed and Assadullah Akhtar, he set up the Darbhanga module in Bihar, after the German Bakery blast, which security agencies consider the most lethal of all IM cells. He lived in Bihar under the guise of a doctor who practiced Unani medicine.
Investigators received several intelligence inputs, but their searches yielded no results. Yasin Bhatkal had the backing of the politically well-connected Tehsin Akhtar, an intelligence agent told this correspondent.
Yasin Bhatkal was very careful not to use technology to communicate with his associates. There were no intercepts to track his location.
The closest security forces came to arresting him was in Mumbai. The Intelligence Bureau had successfully planted a mole in the Indian Mujahideen, who provided credible information about Yasin Bhatkal's movements.
The IB received a tip-off that Yasin Bhatkal was staying in a rented apartment in Nagpada, central Mumbai. It was here that he planned the 13/7 serial blasts in Mumbai.
The IB's mole informed the Bureau that Yasin Bhatkal would come to collect the money he had deposited with the landlord.
The Maharashtra Anti-Terrorism Squad, who was investigating the triple blasts, intercepted a conversation related to the case. They suspected the IB's mole was a terrorist, arrested him and alerted the media.
Yasin Bhatkal realised something had gone wrong, did not turn up to collect his deposit and vanished.
For the next two years, the intelligence agencies had no information on the terrorist.
Then, in August 2013, the intelligence agencies heard chatter which suggested that Yasin Bhatkal was planning to travel out of India.
The agencies tapped cellphones used by members of his family; his wife's phone calls were scrutinised for clues.
Yasin Bhatkal had traveled from his sanctuary in Bihar to Uttar Pradesh and then to Nepal.
In Nepal, he collected money and asked a tout to transfer cash to his wife. Then Yasin Bhatkal made a rare mistake. He called his wife which gave away his location.
A conversation that lasted barely 20 seconds blew his cover.
Indian security agencies contacted their counterparts in Nepal to keep tabs on Yasin Bhatkal. Indian agents quickly traveled across the border to arrest him.
After his arrest, Yasin Bhatkal told his captors that they had arrested the wrong man. He was just an Unani doctor in Bihar. But his game was up. The dreaded terrorist was finally in custody.
Image: Yasin Bhatkal was arrested from Nepal in August 2013.