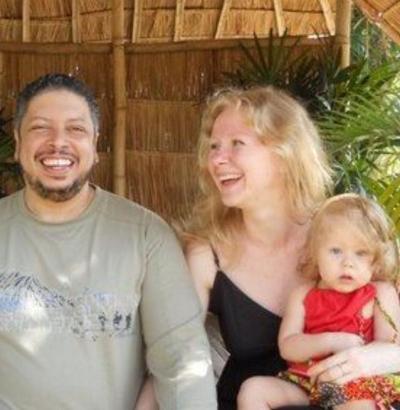 American tourist George Mapp was talking a walk along the scenic beach in Palolem, Goa in November 2009 when his life turned upside down. He shares his story, or as he calls it, a 'surreal dark comedy', with Vicky Nanjappa
Nearly a year after the 26/11 attack shook India to its core, the spanking new National Investigation Agency, desperate to show some results, claimed to have zeroed in on an American national involved in the terror strike.
But George Mapp, the NIA's much-hyped terror suspect, turned out to be a tourist who was visiting India on a spiritual quest. A chance meeting with Faiza Outalha, the wife of 26/11 planner David Headley, had put Mapp on the NIA's radar.
Mapp, who recalls his numerous unpleasant encounters with NIA officials as a "living nightmare," shares his story.
"Old Manali is a small village in Kullu Valley in Himachal Pradesh. It is located approximately 2,000 meters above sea level and offers an awe-inspiring view of the Himalayas.
Old Manali is known as 'magic Manali' for a number of reasons; one of them is the majestic view of the Himalayan mountains, which are snow-capped for most of the year.
Here, in May 2008, I first met Faiza Outalha.
Since then, our lives have been drastically altered by subsequent events, which have left us, our close friends and our families emotionally scarred.
The reason is Daood Gilani alias David Coleman Headley, a one time-heroin addict, a snitch-turned-DEA-agent, who later became a covert operative for the Central Intelligence Agency, the Inter Services Intelligence and the Lashkar-e-Tayiba.
I met Faiza through a mutual friend. She was already divorced from Headley and appeared heart-broken and scorned. She was young, vibrant, beautiful and energetic. She was trying to leave her past behind. We became extremely close in a short span of time.
Nearly a year after the 26/11 attack, I was walking on the beach in Palolem, Goa with my then pregnant girlfriend Natasha (now my wife), when policemen and officials from the NIA surrounded me. They escorted me back to my flat for days of intense questioning that continued for several weeks.
I initially underwent over 30 hours of questioning that sometimes lasted through the night and well into early morning. Nearly 4-5 hours on the first day of questioning, I learnt about the connection between Faiza and Headley.
I was shocked and overwhelmed when the NIA first approached me on November 23, 2009. I was treated like a terrorist and I had to prove my innocence, though there was not one shred of evidence connecting me to any kind of terrorism.
I was the No.1 terror suspect in India because Headley and I knew the same woman. I had been in Old Manali, so had Faiza. Headley had a five-year Indian visa, I had a ten-year visa. Headley was American, I was also an American, and so there was a lot of circumstantial evidence. But that was it!
I would have been much more valuable to the NIA had they treated me like a witness rather than as a terror suspect. My American passport was confiscated as well as my Apple Mac Book pro computer (which the NIA has refused to give back).
Armed policemen slept outside our door for over two weeks. They followed me and my pregnant girlfriend everywhere.
Natasha delivered our daughter on December 12, 2009, less than three weeks after the never-ending investigation began. NIA official Sajid Shapoo even alluded to me that had it not been for my white, nine-month pregnant girlfriend, I would have been arrested simply for being guilty by association.
Even after Natasha and our newborn daughter Zoya left India for Thailand to wait for Natasha's US K-1 visa, the NIA investigation led to an investigation by the Federal Bureau of Investigation.
Thanks to Faiza's ex-husband David Headley, who she later re-married (she is still married to him), our lives became a combination of a surreal dark comedy and a living nightmare.
Unfortunately, the inadequacies, un-professionalism and lack of skill on the part of India's brand new intelligence agency, the NIA, just added to our woes.
Indian agencies have been trying to question Faiza for years. The NIA even launched an 'Operation Morocco' which was aborted last year.
In my opinion, Faiza is a victim. Headley has been found guilty and sentenced to 35 years in a US federal prison for being the mastermind of a precise, well-executed and successful fidayeen style terror attack.
He travelled within Pakistan and India several times, undetected by Indian intelligence agencies. Any person capable of doing so has to be someone who is extremely intelligent and is capable of keeping secrets from his wife.
I know for a fact that Faiza was lied to, used and abused by Headley to complete his mission by any means necessary.
If you research Headley's past, you will learn that he was an extremely selfish person who would turn on anybody, including his childhood best friend Tahawwur Rana (currently serving a jail sentence in US after being convicted on charges of terrorism) to save his own skin.
This modus operandi by Headley is what led him to his career in US intelligence. He became a DEA snitch in order to avoid jail time. He was cunning, manipulative, charming and a great liar, and this helped him become a successful covert operative.
Faiza and I were reunited in Morocco for the first time in December 2010 since the 26/11 terror attack. I spent approximately six weeks with her in Meknes. We met each other almost everyday.
We have remained close friends until this day. Due to our shared life experiences, and our unlikely and unique circumstances related to the Mumbai terror attack and one of the men responsible for it, we have developed a close bond which I think will last a lifetime.
I hope to complete my book, The Accidental Terrorist, by the summer of 2014. It is a true account of my travels in India, Thailand, Morocco and Russia.
My initial journey to India was to meet my guru Amma in Kerala. After I left the safe confines of her ashram, my life took some amazing twists and turns. I went from being a tourist in a foreign land to an accidental terrorist. I met fascinating and interesting people like arms dealer Viktor Bout (with whom I am still in touch), accused spies in Russia and Headley's wife Faiza.
Faiza and I still flirt with the idea of writing a book together. Perhaps one day we will jointly jot down our stories, about how our lives accidentally collided and were turned upside down by a man named David Coleman Headley".
Image: George Mapp with wife Natasha and daughter Zoya