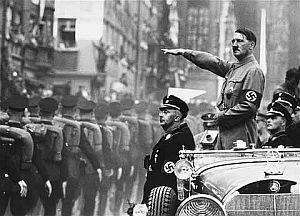 Hitler had planned to invade Ireland during World War II but scrapped the operation because of Germany's failure to gain air supremacy over England, according to a top-secret Nazi war dossier recently uncovered.

The document contains detailed maps and postcards of the country and has been kept by a family out of public view since the end of war.

It reveals that even though Ireland was officially neutral during the conflict, Hitler still viewed the country as a target for invasion, the Daily Mail reported.

The Irish allowed German U-boats and submarines into their waters during the Second World War, but the booklet entitled 'Militargeographische Angaben uber Irland' pinpoints key cities and other sites in Ireland for destruction.

The document, handed to high ranking Nazi officers, also included pictures of key locations such as dams, ports, cities, high ground and beaches which the German High Command believed would be of importance when they invaded.

These key places were numbered by military officials before being plotted on a series of eight fold-out maps, which would have been used during 'Operation Sealion'.

On September 17, 1940 Hitler was forced to scrap Operation Sealion because of the Luftwaffe's failure to gain air supremacy over England during the Battle of Britain.

The Nazi offensive never took place after the German defeat in the skies, but experts believe the book reveals what could have happened if the Nazi's had conquered Britain.

The scarce copy of the document which was published in 1940 is expected to fetch up to 600 pounds when it goes under the hammer at Ludlow Race Course on Friday.

Historical documents expert Richard Westwood Brookes, of Mullocks Auctioneers, said the booklet showed how the Irish were wrong to believe they were safe from invasion after accommodating the Nazis during the war.

"This will come as quite a surprise as the Irish believed that the country's neutrality protected them from the Nazis," he said.

Brookes said it was also possible that Hitler might have considered invading Ireland first to establish an invasion force there for a later attack on the UK mainland.