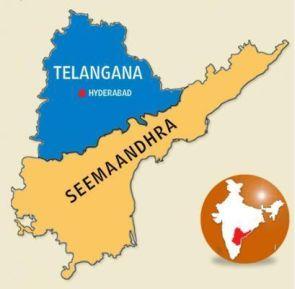 Rediff.com highlights the provisions of the controversial Andhra Pradesh Reorganisation Bill, which was introduced by Home Minister Sushilkumar Shinde in Lok Sabha on Thursday amidst pandemonium.
1. The common capital includes the existing area notified as Greater Hyderabad Municipal Corporation and the central government shall constitute an expert committee to give suggestions for a new capital of residuary Andhra Pradesh within 45 days.
2. The Centre has tried to address the grievances of Seemandhra region by promising to take appropriate fiscal measures, including offer of tax incentives to the successor states, to promote industrialisation and economic growth in both states.
3. The central government will provide special financial support for creation of essential facilities in the new capital of the successor state of Andhra Pradesh, including the Raj Bhavan, high court, government secretariat, legislative assembly, legislative council and such other essential infrastructure.

4. The Andhra Pradesh Governor will be the Governor for both the successor states of Andhra Pradesh and Telangana and for the purpose of administration of the capital area, the Governor shall have special responsibility for security of life and property of all those live in it.
5. 25 Lok Sabha seats will be allocated to residuary Andhra Pradesh while 17 Lok Sabha seats to the Telangana
6. While residuary Andhra Pradesh will get 175 assembly seats, Telangana to get 119 seats after bifurcation.

7. In order to ensure equal opportunities for quality higher education to all students in the sucessor states, the existing admission quotas in all government or private, aided or unaided institutions of higher, technical and medical education shall continue for ten years during which common admission process shall continue.
8. The central government promised to set up an apex council for supervision of the functioning of the Godavari River Management Board and Krishna River Management Board. The apex council shall consist of Union water resources minister, chief ministers of residuary Andhra Pradesh and Telangana as members.
The function of the council will include planning and approval of proposals for construction of new projects, resolution of any dispute and supervisiosn of the functioning of the Godavari River Management Board and Krishna River Management Board.
The headquarters of Godavari Board will be located in Telangana while Krishna Board will be located in the residuary Andhra Pradesh.
Polavaram Irrigation Project will be declared as a national project and central government will take under its control the regulation and development and the Tungabhadra Board will continue to monitor the release of water to high level canal, low level canal and Rajolibanda diversion scheme.