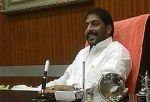 The Delhi high court on Tuesday asked the city police to file its response to the bail application of former Haryana minister Gopal Goyal Kanda, an accused in the air hostess Geetika Sharma suicide case.
"You just file the reply to the bail application. Put up for hearing on November 19," Justice Pratibha Rani told Additional Solicitor General (ASG) Siddharth Luthra who attempted to raise certain objections to Kanda's bail plea. The hearing on the bail application of Kanda, who is in jail since his arrest on August 18, was deferred twice in the forenoon on Tuesday on the ground that the arguing counsel Ramesh Gupta was on his way to the court room.
"Enough is enough. Your counsel is still on his way to the court. No more pass over can be granted. I am adjourning the matter to some other date," Justice Rani said. During the brief hearing, ASG Luthra, appearing for Delhi police, said, "The accused is seeking bail on the ground that charge sheet had already been filed but he has not annexed the copy of the charge sheet with his petition to be heard by this court. I have got a serious objection to it." Earlier, another bench of Justice P K Bhasin had recused itself from hearing the bail plea of Kanda without citing any reason and had asked the registry to place it before some other court.
On November 1, Kanda had moved the high court against the September 20 order of the trial court which dismissed his bail plea on the ground that further probe was needed in view of a police report that the victim was pregnant in March this year. 23-year-old Geetika, 23, was found dead on August 5 at her Ashok Vihar residence in North West Delhi. In her August 4 suicide note, Geetika said she was ending her life due to "harassment" by Kanda and his aide Aruna Chaddah, co-accused in the case. They, however, denied the charge.
Earlier, Kanda's anticipatory bail plea had been rejected by the trial court and the Delhi high court, following which he had surrendered before the police on August 18. Chaddah is also in jail, after her bail pleas were rejected by the trial court on September 7 and October 15. She had sought bail on the ground that she is a single parent and has a seven-year-old daughter and also old parents to look after. On October 6, the city police filed a charge sheet before the trial court against Kanda and Chaddah for allegedly being involved in "a series of wilful and malicious acts of mental torture, threat, blackmail and stress" against Geetika which led to her suicide.
The police has accused the duo of "harassing, conspiring, intimidating and creating an atmosphere of terror and continuous pursuit" in the victim's mind that "she found no option but to end her life". The charge sheet, which runs into 1020 pages, cites 65 prosecution witnesses including the gynaecologist who had aborted Geetika's foetus in March 2012.
Kanda and Chaddah have been charge sheeted under section 306 (abetment of suicide), 120 B (criminal conspiracy), 506 (criminal intimidation), 201 (destruction of evidence), 467 (forgery of valuable security), 468 (forgery with intention to cheat), 469 (forgery with intention to harm reputation) and 471 (using forged documents as genuine) of Indian Penal Code. They have also been booked under section 66-A of the Information and Technology Act which deals with hacking of computers.