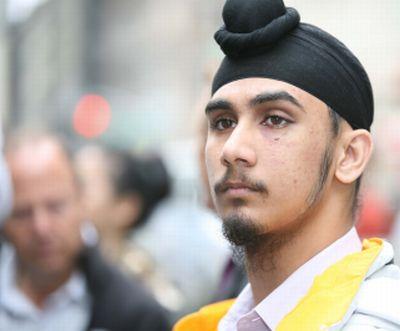 Jagmohan Singh Premi, a student at Richmond Hill High School, in Queens, New York was punched in the face Tuesday after a student intentionally attempted to remove his patka, the Sikh Coalition reported on its website.
Jagmohan was sitting in class when a student partially untied his patka. With his patka untied -- and with his teacher in the classroom -- Jagmohan tried to secure it.  At that moment the other student punched him in the face with a key between his knuckles.
Doctors stated that Jagmohan has a facial contusion as a result of the attack. In addition he has a possible orbital fracture. 
Jagmohan reported this harassment to teachers, but the tormentor was not stopped by teachers or administrators at the school. Though the tormentor had been suspended earlier this year specifically because he tried to remove Jagmohan's patka, he continued to harass Jagmohan during their shared classes. That harassment culminated in Tuesday's violence.
The Sikh Coalition on receiving a phone call from Sarabjit Singh, a friend of Jagmohan's family, contacted the Hate Crimes Task Force of the New York City Police Department. Two Hate Crimes Task Force investigators interviewed Jagmohan Singh at his home in the presence of the Sikh Coalition's staff attorney and other staff members.  The coalition has requested that this matter be pursued as a hate crime directly with the Hate Crimes Task Force.
Coalition staff accompanied Jagmohan Singh's father for a meeting with school officials at Richmond Hill High School. The coalition is concerned that the Dean did not totally understand the religious implications of Jagmohan's patka being untied by another student.

Image: Jagmohan Singh Premi
Photograph: Paresh Gandhi