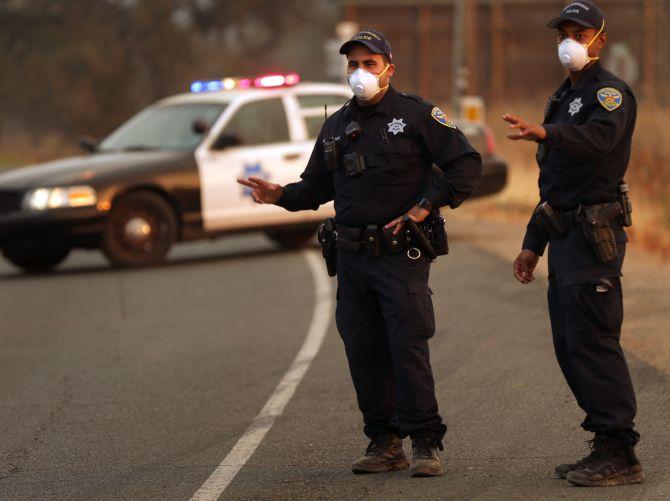 A gunman in California fired at random victims on Tuesday, killing four people at multiple locations and injuring at least one child at an elementary school, police said.
The shooting began at a home in the rural community of Rancho Tehama, about 195 kilometre from Sacramento, on Tuesday morning.
Police say the gunman was shot dead by police after four people were killed and 10 others injured in the rampage.
Officials believe the shootings started as a "domestic violence incident".
The gunman, who has not been publicly identified, tried to enter Rancho Tehama Elementary School, which was on lockdown, Assistant Sheriff Phil Johnston said.
"The incident could have been so much worse," Johnston said, crediting the school staff for quickly securing the building.
The gunman had a tactical vest with extra magazines for his guns, Johnston said. The incident at the school lasted about six minutes, said Johnston, who viewed surveillance video of the shooting.
The wounded victims included a mother who was driving her children to school when the unidentified attacker opened fire on them "without provocation or warning," the assistant sheriff said.
Hours into the investigation, the motive for the shootings remains unclear.
"We have no known motive," Johnston said. "We know of no real connection to any of the victims. Most of the victims in this case appear to be random selections."
United States Vice President Pence wrote on Twitter: "Saddened to hear of the shooting in California, the loss of life & injuries, including innocent children. We commend the effort of courageous law enforcement. We'll continue to monitor the situation & provide federal support, as we pray for comfort & healing for all impacted."
The shooting happened the same day that family members of the Sandy Hook elementary school shooting victims were in court in a case challenging gun companies for marketing and selling an AR-15-style rifle. That weapon was used to kill 20 children and six adults in December 2012 in Newtown, Connecticut, in one of the worst mass shootings in America.