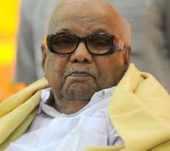 As the DMK decided to withdraw support, the government on Tuesday moved to bring a resolution on the Sri Lankan Tamil issue in Parliament in an attempt to placate the key ally which has set it as one of the conditions for reconsideration of its decision.
Sources said the government is drafting a resolution to be brought in Parliament.
The decision was taken after the Congress core group meeting, hours after DMK chief M Karunanidhi announced that his party would withdraw support to the United Progressive Alliance.
However, the DMK has made it clear that it would reconsider its decision if India supports a strong resolution at the United Nations Human Rights Council and brings a resolution in Parliament on the issue.
Earlier, Finance Minister P Chidambaram insisted that the government faces no threat and that consultations have been initiated with political parties on DMK's demand that the Parliament should adopt a resolution on human rights violations in Sri Lanka.
Chidambaram said the Congress core group, headed by party chief Sonia Gandhi, had considered the two suggestions made by DMK at length. He sought to mollify Karunanidhi, saying his "statement deserves all respect".
Asked whether he was hopeful that the DMK would reconsider its decision, Chidambaram said, "According to the media, the DMK president has said that he will review its decision if a resolution is brought before Parliament. We take note of that statement also."
He insisted that the government is stable and will continue.
"Let me assure everyone that the stability of the government and the continuation of the government are not an issue. The government is absolutely stable and enjoys majority in the Lok Sabha," he said.
"The government has a majority in the House," Chidambaram said responding to repeated queries on the issue of the government's stability.
His statement came hours after Karunanidhi announced that the DMK will pull out of the government over the Lanka Tamils issue. The DMK has 18 members in the Lok Sabha and the UPA with the support of the DMK has 303 MPs in the 543-member House.
On the issue of a resolution moved at the UNHCR against Sri Lanka, which the DMK wants India to support, he said that the government is examining the final draft that reached New Delhi late on Monday night.
Chidambaram, who along with Defence Minister A K Antony and Health Minister Ghulam Nabi Azad, had met Karunanidhi on Monday, said the government is also examining whether amendments can be moved to that draft to strengthen that resolution as demanded by DMK.
"As far as the resolution in the UNHCR is concerned, we are examining the final draft that came to us late last (Monday) night and whether amendments can be moved to that draft to strengthen that resolution," he said.