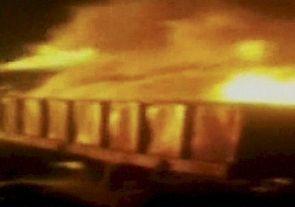 At least 10 people were charred to death and another 12 got injured when a gas tanker caught fire and exploded after being hit by a truck on a highway near Beelpur village, 35 kilometres from Jaipur, late Saturday night.
The condition of two persons among the injured is stated to be critical, Superintendent of Police (Rural) Nitin Das said. They were admitted to NIMS hospital in Jaipur.
The tanker, carrying inflammable gas, was hit by another truck loaded with bikes from the rear and caught fire after the gas leak, Jaipur Collector Krishna Kunal said.
"The gas tanker exploded instantly with splinters hitting seven other vehicles passing through the spot," the collector said.
One Maruti car, two tankers -- one filled with gas and the other with mustard oil -- and six trucks were also gutted in the fire.
Six of the deceased were identified as Shikha Chopra, Vishal Bajaj, Ali Sher, Radhamohan, Vinod and Raskhool, the SP said, adding the remaining four bodies were charred beyond recognition.
Several fire tenders were rushed to the spot from the state capital, the collector who supervised the rescue operation said, adding that the fire was doused by afternoon.
The bikes loaded in the truck were also gutted in the devastating fire, he said, adding the gas tanker's driver probably managed to flee from the spot.
Splinters from the exploded gas tanker also hit a temple and a shop, he said, adding that no one was hit. The accident caused a huge traffic jam on the highway which was cleared in the morning, the SP said.
An FIR was lodged against transport company of the tanker and its driver and conductor, who fled the scene, under various sections of Indian Penal Code, the collector said.