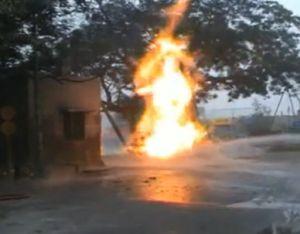 A major fire broke out at GAIL's natural gas pipeline in South Delhi's Satyaniketan area after it was perforated by civic construction contractors but there were no casualties reported.
The fire at the pipeline near Venkateshwara College in South Delhi has been brought under control, said B C Tripathi, Chairman and Managing Director of GAIL India Ltd, the state gas utility which owns the pipeline.
The pipeline supplies natural gas to consumers like Maruti Udyog.
"There was some civic construction going on near the under-ground pipeline... There is metro construction work as well as flyover work going on in the area," he said.
A drill unit perforated the pipeline, leading to a minor explosion, followed by fire.
"Fire tenders were immediately rushed and gas supplies to the line stopped," Tripathi, who was among the first to reach the spot, said.
The fire has been brought under control, he said adding there were no casualties.
"A GAIL gas pipeline near Venketeshwara College caught fire at 9.30 am due to leakage. 10 fire tenders were pressed into service and the flames were doused off," a fire official said.
Image: A screen grab of the fire in south Delhi