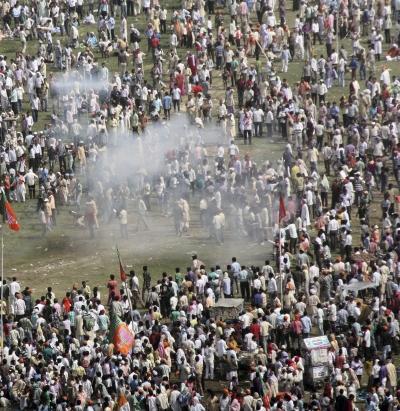 After a massive manhunt, the National Investigation Agency on Wednesday nabbed the elusive Students Islamic Movement of India operative Haider, who allegedly played a key role in the Patna blasts targeting Prime Minister elect Narendra Modi's rally last October.
Three other suspected Indian Mujahideen operatives – Taufeeq Ansari, Numan and Muzibullah -- have also been arrested.

ead: Exclusive! How IM terrorist Tehsin Akthar was arrested

Investigators have picked up the four men based on the leads provided by main accused in the blast Tehsin Akthar. The National Investigation Agency, which has been probing the case, says that there were over 14 persons involved in this attack.

The NIA has so far has arrested 12 suspects for their alleged involvement in the explosions

I
Tehsin, a close aide of Indian Mujahideen co-founder Yasin Bhatkal, who was arrested in March told NIA officials that Haider was the main conspirator in the Patna blasts. "He is a SMI operative and had sought only logistical support from us," he said during his interrogation.
According to NIA officials, Tehsin said in his confession that Haider, like him, hails from Darbhanga in Bihar. "We held several meetings in which Haider spoke about his terror plans. But at no point was there any discussion on the plans to attack Patna or on the merger between the IM and the SIMI," he told the NIA. "The operations of the SIMI are more political in nature; the IM has a different approach."
Tehsin said during his interrogation that after his initial meetings with Hyder, he met him once again after the 13/7 triple blasts in Mumbai.
"I returned to Darabhanga where I met Hyder. At the time of the Patna blasts, we met in Ranchi where I was staying in a rented accommodation. He took shelter with me. After a few days he left, and that was the last I saw of him."
"It was then that he spoke about the Patna operation and said it was planned by SIMI," Tehsin told NIA officials.

The IM operative also warned that SIMI was growing stronger and it was just a matter of time before the outfit became a formidable force. "The SIMI wants to carry out attacks that would create a huge impact. Their target is politicians and their rallies," Tehsia said.

According to his confessions, a part of the SIMI, which is considered radical, has a strong presence in Uttar Pradesh, Gujarat and Madhya Pradesh apart from Bihar.

Five people were killed and at least 83 injured in six serial bomb blasts in Patna last year.

Image: A bomb explodes at Gandhi Maidan in Patna. Photograph: Reuters