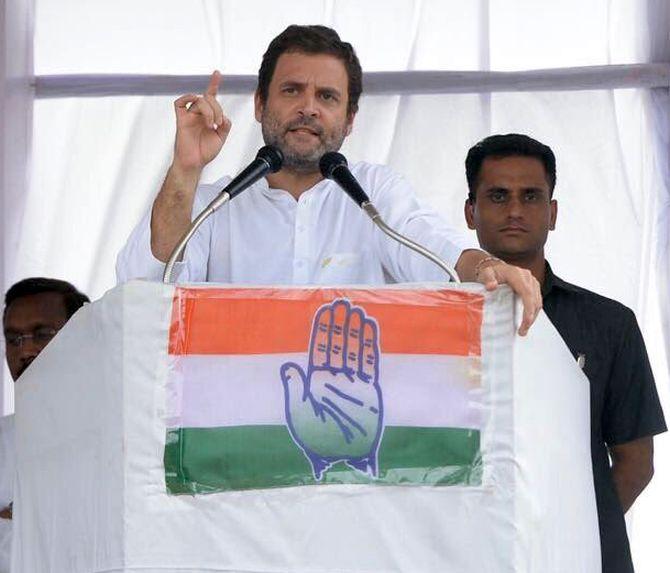 Congress vice president Rahul Gandhi on Saturday demanded the resignation of Chhattisgarh Chief Minister Raman Singh over the Panama Papers issue, citing the case of Nawaz Sharif who quit as Pakistani prime minister.
Gandhi alleged, "Sharif resigned after his and his family's name figured in the Panama Papers scandal but Chief Minister Raman Singh's family is also facing allegations in the Panama Papers issue and he has not yet resigned."
"It is because he belongs to the RSS and the BJP and they can indulge in corruption," he said wryly.
Last year, the Congress had alleged Singh's son Abhishek held offshore assets as per the Panama Papers leak.
Panama Papers are leaked documents of about 1.15 crore files containing details of about 2.15 lakh bank accounts.
Both the chief minister and his son, the Lok Sabha MP from Rajnandgaon, had rubbished the allegations. The chief minister had described the charges as "baseless and unfounded".
Gandhi, on a two-day tour to the state, accused Prime Minister Narendra Modi of overlooking the corruption of the BJP chief ministers.
"Modiji talks about fighting corruption, but he can't see the corruption of the Chhattisgarh chief minister. The Rajasthan chief minister, too, has been linked to corruption, but Modiji is not speaking about it," the Congress leader alleged.
He was addressing a rally in Markel, a tribal village near Jagdalpur in Bastar district. The rally was organised to oppose the proposed disinvestment of the NMDC's steel plant in Nagarnar area. The plant in Markel is under construction.
"For the first time in the country, I have seen that a steel plant, which is still being set up, is being privatised. People from the RSS and the BJP don't want development of tribals," he alleged.
"They want you to become slaves of rich people in big cities," claimed the 47-year-old Amethi MP, addressing the gathering which mostly comprised adivasis.
Gandhi alleged that land and forests belonging to tribals are being snatched and given to industrialists.
In 2004, Tata Steel proposed to set up a plant in Bastar for which people gave their land but later the company scrapped its plan. The acquired land was not given back to owners, the Congress leader alleged.
In another rally Rahul hit out at the NDA government, alleging that strife started in several states, including Jammu and Kashmir, after it came to power in May 2014.
He claimed that the prevailing unrest in parts of the country under its rule was benefiting the the RSS, China and Pakistan.
"After the NDA came to power in Delhi, conflicts started in several states. There was peace in Jammu and Kashmir. Terrorism there had nearly come to an end during the UPA rule," he alleged.
"We held talks with people from various sections... our idea was to reach out to people, provide jobs to the youth. We conducted Panchayati Raj elections," he said.
Gandhi was interacting with tribal students during a programme, 'Amcho Hak' (our rights), organised by the National Students Union of India in Jagdalpur in Chhattisgarh.
"When we came to power in 2004, we gradually controlled terrorism in J&K and it nearly came to an end. But now unrest is everywhere in the country--Srinagar, Sikkim and Bastar," the Amethi MP alleged.
"Peace has vanished from Uttar Pradesh, Tamil Nadu. Who's getting benefit from the conflict in Kashmir? It's the RSS, Pakistan and China," the Congress leader alleged.
Questioning who was fuelling civilian unrest in Kashmir, he said "You all have seen how the people of Jammu and Kashmir were living peacefully" when the Congress-led UPA was in power at the Centre.
"Situation worsened after the BJP came to power there in coalition with the PDP. Similarly, in Chhattisgarh, the RSS and industrialists are getting benefits of conflict in Bastar," he claimed.
He said Chhattisgarh was a rich state with water, forests and minerals and alleged that "they want to snatch your resources and they can't do that till there is strife".
"That's why they are spreading discord, they want to make you fight among yourselves. Adivasis will never benefit from industrialisation," Gandhi claimed.
The Congress MP alleged that the RSS wanted Dalits, adivasis and OBCs to remain weak and oppressed so that they could rule over them.
"Wherever they go they trigger fight (aag lagate hai). In Haryana, they started a fight between Jats and non-Jats... between Hindus and Muslims in Kashmir, Bengali and non-Bengali in Assam...wherever they go they make people fight," he alleged.
Contrary to this, the Congress believes in peace, he said, adding his party wants to protect the rights of tribals.
"We want you (tribals) to get benefit of your water, forests and minerals not anyone else. We want to protect your rights. Why is prime minister Modi trying to snatch your lands? So that he can give your lands, mines to industrialists," he claimed.
He said in all this, the tribals were suffering and it was causing them losses.