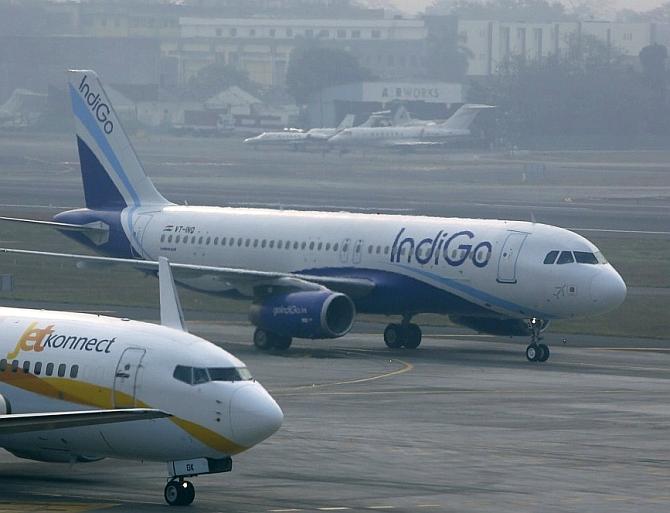 Flight services at the Mumbai airport were hit badly on Monday with two major carriers -- Jet Airways and Air India -- together cancelling over 100 flights and rescheduling about 70 services due to the closure of the main runway for six hours for pre-monsoon maintenance work.
The Mumbai International Airport Limited, which runs the city airport, had earlier in the day announced the closure of the main runway (O9/27) between 11 am and 5 pm for today and tomorrow to facilitate the work.
The city airport is the main base of Jet Airways and a bulk of its operations, both domestic and international, are carried out from Mumbai.
While Jet Airways cancelled a total of 70 flights, including 54 domestic services, Air India decided not to operate about 34 flights in view of the runway closure.
Additionally, Jet Airways also rescheduled another 70 flights, including 17 international ones. Air India diverted four flights.
'Due to the pre-planned maintenance activities before the monsoon season, the runway at the Chhatrapati Shivaji International Airport will be closed on April 9-10 from 1100 hours to 1700 hours. Guests planning their travel during this period are requested to allow for sufficient time, in case of delays, while making their bookings,' Jet Airways had informed its passengers through its website ahead of the runway closure.
When contacted, an Air India spokesperson also said that the cancellation of its flights due to the runway maintenance work at the Mumbai airport was intimated to the passengers much in advance.
'The main runway of the Chhatrapati Shivaji International Airport (CSIA), handled by GVK MIAL, will be non-operational on April 9 and 10, between 1100 hrs and 1700 hrs on account of pre-monsoon maintenance activities,' the Mumbai International Airport Limited (MIAL) said in a statement earlier in the day.
Passengers are requested to connect with their respective airlines, said MIAL, the private airport operator.
The Mumbai airport, which is the second busiest in the country, has two crossing runways -- 09/27 (the main) and 14/32 (the secondary runway).
While the primary runway can handle up to 48 arrivals and departures per hour, the secondary runway has a capacity of 35 flight movements per hour.
On an average, there are 970 flight arrivals and departures at the Mumbai airport every day.