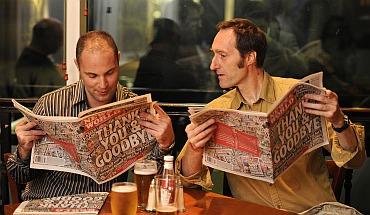 Copies of the last edition of News of the World were sold out across the United Kingdom as millions of people bought more than one copy of the collector's item, some have already been put up for sale at a higher price online.
Copies flew off the shelves in corner shops and supermarkets even though News International increased the print-run to nearly 5 million copies. Each copy was priced at £1.
The tabloid promised that all revenues from the last edition will go for charity. There were no paid advertisements in the edition, but included those of charity organisations. Retailers reported selling all copies by 8 am, with average sales of the paper per hour soaring from 3 to 44.
One retailer in central London sold around 120 copies every 20 minutes.
Souvenir hunters turning out in their droves to collect a piece of British newspaper history as the 168-year-old tabloid was abruptly closed by media baron Rupert Murdoch, who bought it in 1969.
The collector's edition described the tabloid on the cover as The world's greatest newspaper, 1843-2011, and signed off with the simple words: 'Thank you & goodbye' against a collage of its well known past front pages.
The tabloid was described as an "astonishing paper (that) became part of the fabric of Britain, as central to Sunday as a roast dinner".
Extolled by celebrated writer-journalist George Orwell as a part of British culture, the tabloid reproduced his famous quote: "It is Sunday afternoon, preferably before the war.
The wife is already asleep in the armchair and the children have been sent out for a nice walk. You put your feet up on sofa, settle your spectacles on your nose and open the News of the World".
Inside, the front page of the first issue, dated 1 October 1843, was reproduced in full, while another section had a series of the tabloid's front pages of exposes, scandals and major events in British public life.
In an editorial titled 'We recorded history and we've made history', it expressed pride over its achievements in the past, and regretted the events that led to its closure. The editorial said: "We praised high standards, we demanded high standards but, as we are now only painfully aware, for a period of a few years up to 2006 some who worked for us, or in our name, fell shamefully short of those standards".
It added: "Quite simply, we lost our way. Phones were hacked, and for that this newspaper is sorry. There is no justification for this appalling wrong-doing.
No justification for the pain caused to victims, nor for the deep stain it has left on a great history".
Image: Men look at the last edition of The News of The World newspaper in the bar where many of the journalists from the newspaper gathered after the closure of the newspaper in London.
Photograph: Paul Hackette