Young Congress secretaries submit grievance letter to AICC general secretary Janardan Dwivedi, but keep language temperate as directed by party president Sonia Gandhi. Renu Mittal reports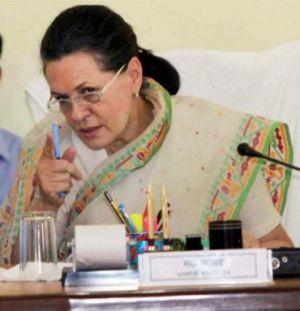 Congress president Sonia Gandhi's intervention has prevented an ugly face-off between Team Rahul and the Old Guard of the party. Sonia Gandhi is said to have sent out a stern message that she did not want the confrontation to go out of hand.
Four All India Congress Committee secretaries on Thursday met Janardan Dwivedi, AICC general secretary incharge of the organisation, and handed over a letter signed by 14 secretaries.
They appealed to Dwivedi that it be forwarded to other general secretaries, CWC members and senior leaders.
Sonia Gandhi is said to have insisted that the letter be handed over only to Janardan Dwivedi and its language be kept mild and temperate. She also did not want any names mentioned in the letter, not even vice president Rahul Gandhi's.
Harish Chaudhary, Shakeel Ahmed Khan, Prakash Joshi and Naseeb Singh, who were treated to chai and garam vadas, were promised by Dwivedi that the letter would be sent to all the senior general secretaries. He agreed that it was time for a generational change and that young leaders must be given a chance to grow.
In two tweets, Digvijay Singh, who was under attack from the young AICC secretaries, said, "I support the demand of Secretaries of AICC. Generational Change must happen. It has been a pleasure working with my Secretaries in the AICC."
"Thank God younger generation of Congress now demanding Generational Change which I have been suggesting since Burari AICC in 2009 December."
The letter written by the secretaries reads as follows:
"We the undersigned secretaries have been observing and feeling very strongly that of late, there comes statements from different rungs of senior congressmen which is not in the interest of the party."
"If there is any concern, it should be expressed in a very dignified manner and at an appropriate place within the party forum. It should be done as and when felt necessary, this is also the democratic way of working, but surely not in the way as done by some of our responsible senior congressmen. It should be also noted that, these are the very leaders, who are expressing their views in public in recent times; they themselves have always been part and parcel of the highest decision making body of the Congress party."
"We should try and do some introspection and try to work tirelessly towards improving or in fact reversing the recent political scenario. Our aim should be to make the party stronger. At this juncture we feel, our attack should be directed at our opponents who are working against the interest of the common masses."
"Hence we recommend very strongly that they should consciously refrain from going to the public with any negative comments with regard to the party."
"We shall be glad if you could circulate our sentiments to all the senior leaders of the party."
The letter was signed by Paresh Dhanani, Girish Sadankar, Harish Chaudhary, Prakash Joshi, Suraj Hedge, Shakeel Ahmed Khan, Zuber Khan, Kuljeet Nagra, Naseeb Singh, Shubhankar Sarkar, Sanjay Kapoor, Dr Chella Ram, Bhupen Bora and Rana Goswami.
Image: Congress president Sonia Gandhi