At least nine persons, including four policemen, have been killed and 20 others injured in a powerful blast near the ancient pyramids of Giza in Egypt.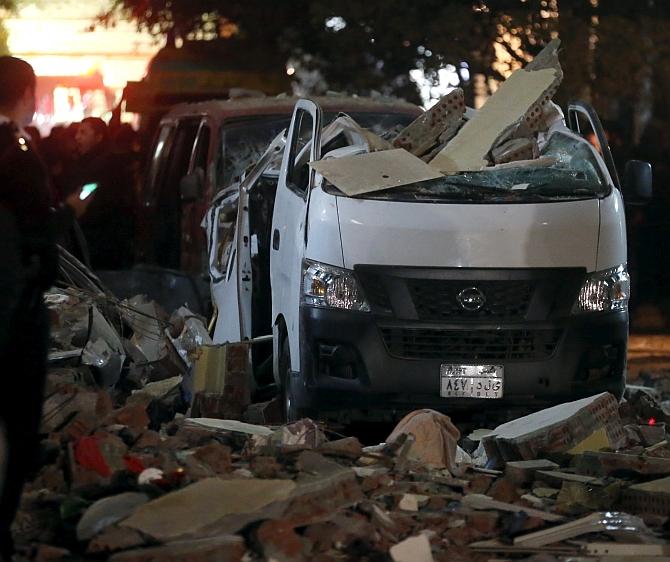 Damaged cars are seen at the scene of a bomb blast in Giza, Egypt. Photograph: Mohamed Abd El Ghany/Reuters
The explosion took place when a police team raided a militants' hideout near a road leading to the pyramids in the Cairo suburb of Giza ahead of Monday's anniversary of the 2011 revolution that ousted former strongman Hosni Mubarak.
Nine persons were killed in the blast that occurred after a team of security personnel attacked the militants' hideout in Giza area, police said.
The area was cordoned off by the security forces soon after the explosion.
The militants exchanged gunfire with security forces which resulted in the bombs, belonging to the militants in the apartment, getting exploded, police said, adding that some of the injured people are said to be in critical condition.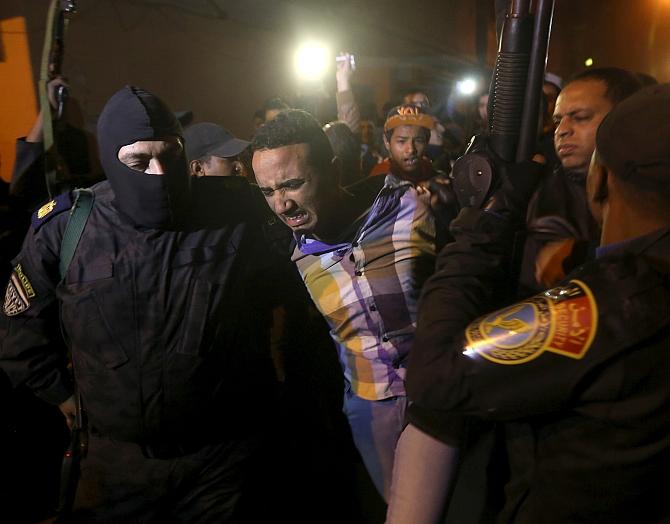 Security forces detain a man at the scene of a bomb blast in a main street in Giza. Photograph: Mohamed Abd El Ghany/Reuters
On Thursday, at least five Egyptian policemen were killed when militants stormed a police checkpoint in the country's restive North Sinai and opened fire on them.
The country has witnessed several violent militant attacks since the January 2011 revolution that toppled Mubarak, killing over 700 policemen and injuring over 18,000 others.
Attacks targeting police and military further increased after the ouster of Islamist ex-president Mohammed Morsi in 2013 following massive protests.