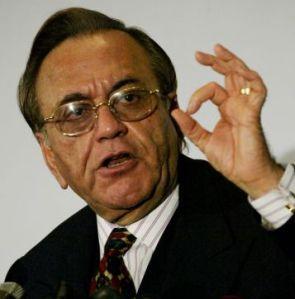 Amid fresh strain in Indo-Pak ties, former Pakistan Foreign Minister Khurshid Mahmud Kasuri on Tuesday defended Kulbhushan Jadhav's death sentence, saying even Pakistanis were being tried by military courts.
"Even many civilians in Pakistan have been tried by military courts," he told reporters on the sidelines of a conference while replying to a barrage of questions on the death sentence to Jadhav.
In his address at a conference on Indo-Pak relations, he said relations between the two countries have nosedived but the only way out to check it is to engage in talks.
Kasuri said both the sides must not allow things to drift away and that it is in Pakistan's interest to have good relations with India.
At the same time he admitted that things between the two neighbours are not looking good.
"Relationships are not normal right now. Rhetoric not particularly good on either side of the border. I must admit I was initially hesitant, but it is these times that we must
persist and talk about peace.
He said India will not be able to isolate Pakistan internationally as Islamabad will react to it strongly.
"It will never happen as Pakistan will react," he said, adding the idea of cutting off Pakistan from its South Asian moorings will not be in the interest of both sides.
Pakistan High Commissioner Abdul Basit, Congress leader Mani Shankar Aiyar and senior lawyer Ram Jethmalani were among dignitaries present at the conference.
During the talk, Kasuri was constantly asked to respond on the issue of Kubhushan Jadhav, but he remained tight-lipped.
"One former British Secretary had spoken about the policy of benign neglect. But, I do not think that benign neglect on either side will work. It will never be on an even keel," he said, as he emphasised the need for dialogues to resolve outstanding issues, including the Kashmir dispute.
Earlier in the day, India warned Pakistan to consider the "consequences" on their ties if Jadhav is hanged in the alleged espionage case and vowed to go "out of the way" to
save him amid an outrage in this country.