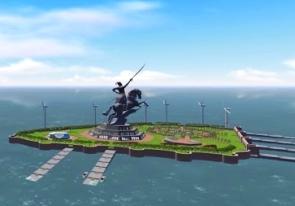 The environment ministry on Thursday gave its nod to a plan for constructing a grand statue for Maratha warrior king Shivaji in the Arabian Sea off the coast of Mumbai.
Union Minister of State for Environment and Forest Prakash Javadekar said the clearance has been given and a notification for the same would be out soon. "The issue of having a statue of Shivaji Maharaj, which was pending for the last few years, has been sorted out. The chief minister of Maharashtra had discussion with me a few days back and I had assured him to expedite the process soon.
"We have given clearance for the issue and a notification would be out by Friday night," Javadekar told a news conference in New Delhi. The Congress-led Democratic Front government in Maharashtra had first made an announcement on Shivaji memorial in 2004.
The issue had been pending since long as it had not got environment clearance. The then Congress-Nationalist Congress Party government had also allocated Rs 100 crore for the project.
The memorial was supposed to be built on the lines of the Statue of Liberty in the United States and Swami Vivekananda Rock Memorial in Kanyakumari. The proposed 309-foot-tall statue, planned to be located off the Marine Drive along the Arabian Sea, had faced opposition from the Navy. It was also pointed out that the project will violate the Coastal Regulatory Zone norms.
Image: An artist's rendition of the proposed 309-foot-tall statue of Maratha warrior king Shivaji.