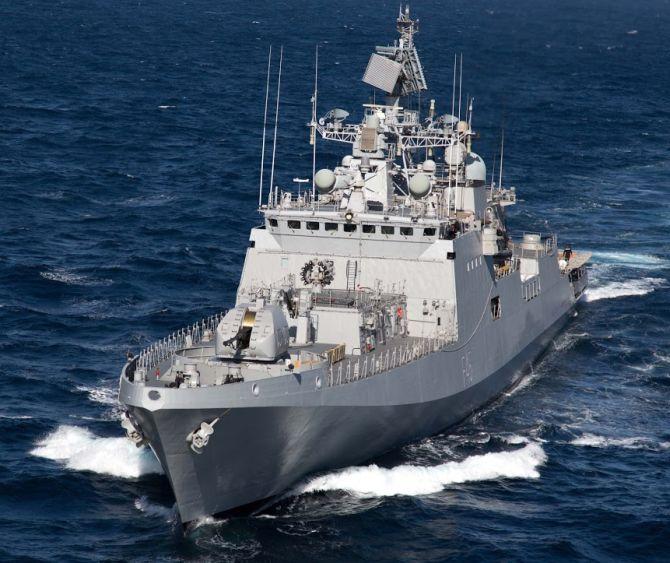 The International Fleet Review of the Indian Navy was held in Vishakhapatnam on Saturday morning.
President Pranab Mukherjee was given a 21-gun salute and the ceremonial Guard of Honour by 150 navy personnel.
Close to 75 Indian warships and 24 from Navies across the globe sailed past the Presidential yacht- INS Sumitra, that, besides Mukherjee hosted Prime Minister Narendra Modi, defence minister Manohar Parrikar, three service chiefs besides others.
Rediff.com's Vipin Vijayan reporting from Vishakhapatnam presents some fascinating moments from the show.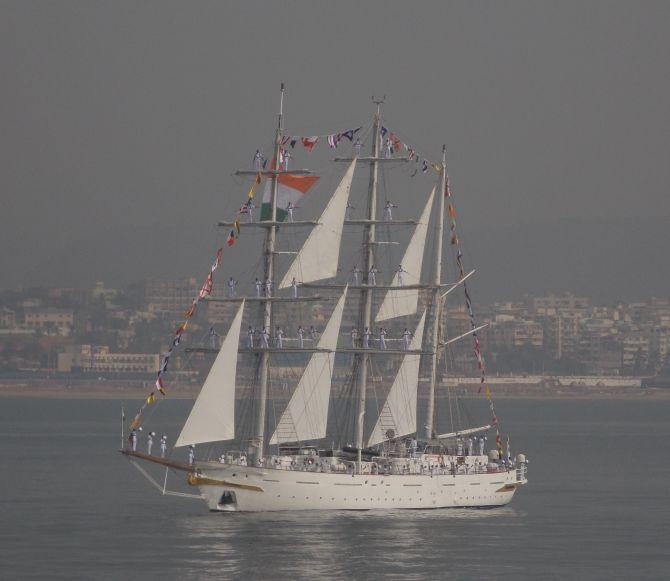 Crew of the INS Tarangini salute the Commander in Chief of the Indian Armed Forces. INS Tarangini is a three-masted barque, commissioned in 1997 as a sail training ship for the Indian Navy. Photograph: Vipin Vijayan
The four fleet review yatch; President Pranab Mukherjee was onboard the INS Sumitra (1st ship in the formation) followed by the other three Saryu-class patrol vessels -- INS Saryu, INS Sumedha (both of which had VIPs on board) and INS Sunaina (the media yatch). Photograph: Vipin Vijayan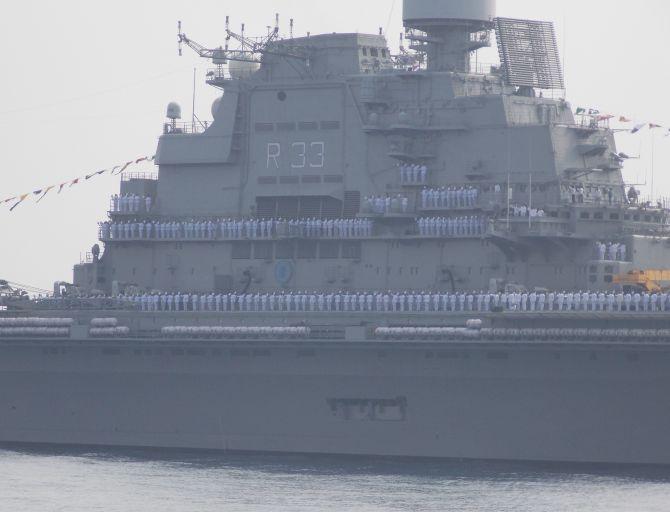 INS Viraat, — which saw action in the Falklands War and remained for well over a decade the sole aircraft carrier in the Indian Ocean region following the decommissioning of the first Indian carrier INS Vikrant in 1997 -- entered service on May 12, 1987. Besides more than 1, 200 officers and sailors onboard, Viraat's complement includes six Sea Harrier fighter jets, Chetak and Sea King anti-submarine warfare helicopters. Photograph: Vipin Vijayan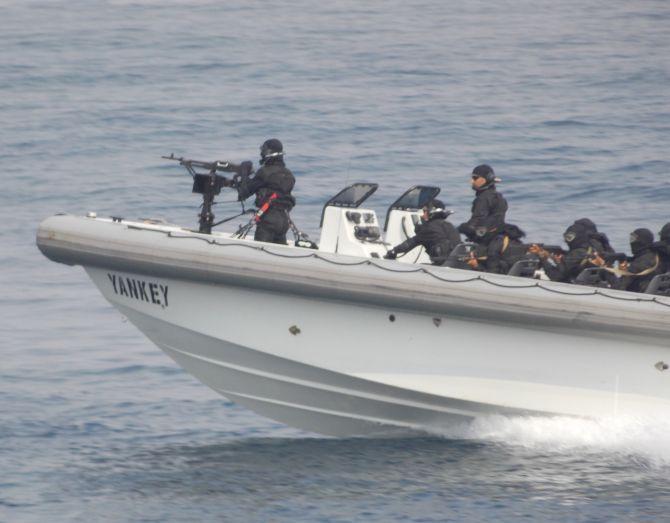 Marine Commados execute an operational display. MARCOS is the special forces unit of the Navy, created for conducting special operations such as amphibious warfare, counter-terrorism, Direct action, special reconnaissance, unconventional warfare, hostage rescue, personnel recovery, combat search and rescue, asymmetric warfare, foreign internal defence, counterproliferation and amphibious reconnaissance. ? Photograph: Vipin Vijayan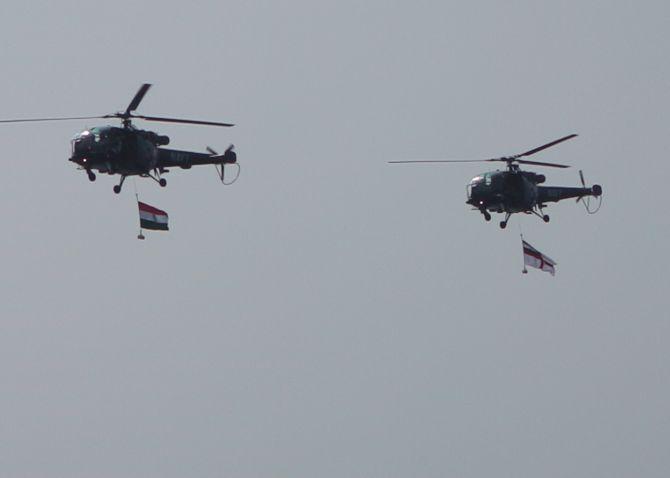 Led by Flag Officer Naval Aviation Rear Admiral Puneet Bahl, the Chetak helicopters of the Indian Navy proudly displaying the Indian Flag, the Navy ensign and the Fleet review logo. Photograph: Vipin Vijayan
Led by Commandant A K Yadav, the Chetak helicopters of the Rakshak squadron of the Coast Guard. Photograph: Vipin Vijayan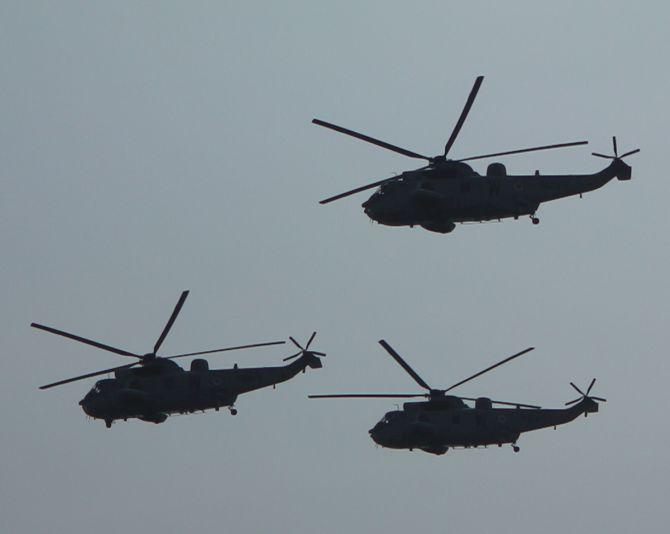 The Sea King 42B helicopters, considered as among the most potent weapon platforms in the Naval inventory, fly in formation. Photograph: Vipin Vijayan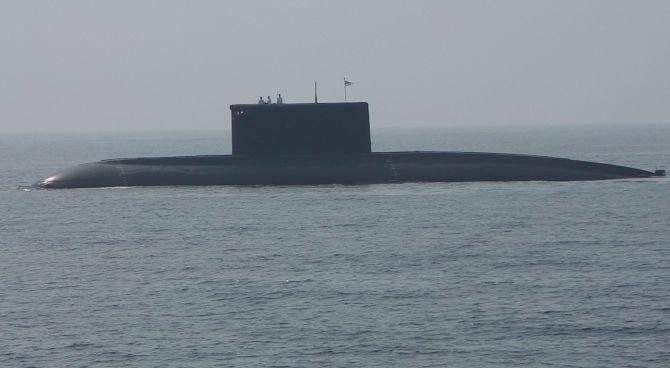 One of the three Sindhughosh class submarine that sailed past the presidential yatch. Photograph: Vipin Vijayan