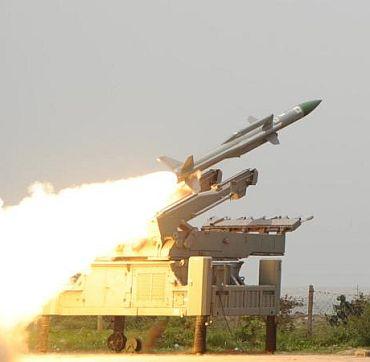 India on Friday test-fired the indigenously developed surface-to-air Akash missile from the IntegratedTestRange launch complex at Chandipur near Balasore in Odisha
The missile targeted a floating object supported by the pilot-less target aircraft 'Lakshya', defence officials said.

"Akash was test fired from launch complex-3 at 11.22 am," a defence official said, adding that "some more trials would be conducted within the next couple of days".

Click HERE for more defence news
"During the trial, the missile was aimed at intercepting a floating object supported by a pilot-less target aircraft, flown from launch complex-II, at a definite altitude over the sea," according to a source.

Akash is a medium range surface-to-air anti-aircraft defence system developed by the DRDO as part of the Integrated Guided Missile Development Programme.
It has a strike range of 25 km and can carry a warhead of 60 kg. It has the capability to target aircraft up to 30 km away and is packed with a battery that can track and attack several targets simultaneously, they said.

With the capability to neutralise aerial targets like fighter jets, cruise missiles, air-to-surface missiles etc, defence experts compare Akash to the American MIM-104 Patriot surface-to-air missile system.

The last trial was conducted on June 6, 2012 from the same base.