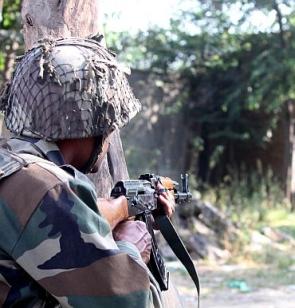 A junior commissioned officer and a militant were killed in a fierce gunfight in the forest area of frontier Kupwara district on Tuesday.
An Indian defence spokesman said based 'on specific intelligence about presence of terrorist in Waderbala forest near village Petta Handwara, a coordinated joint operation was launched by Rashtriya Rifles units of army and the special operations group resulting into the killing of one terrorist'.
"Rashtriya Rifles units along with SOG launched the operations on the night of October 28. The area was effectively cordoned preventing the escape of the terrorist. As he felt corner, the terrorist hiding opened fire. Thus, contact was established in the early hours of October 28 and after firing, which continued for some time, the terrorist was killed," he said.
The official added that the identity of the terrorist was yet to be established.
"During the exchange of fire, one JCO of the Indian Army was injured. He was evacuated from the site but later succumbed to his injuries," the spokesman added.