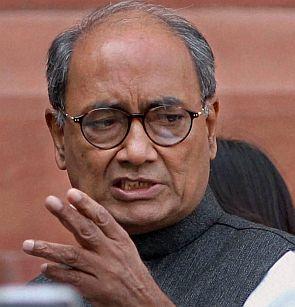 "Courts are not arenas for political wrestling," the Madhya Pradesh high court said on Monday while disposing of a 'letter petition' filed by Congress general secretary Digvijaya Singh seeking a Central Bureau of Investigation probe into the Madhya Pradesh Professional Examination Board scam and directing him to file a 'proper petition'.
"Demanding something from the court by writing letter will set a wrong precedent as courts have their own procedures. File a petition as per the legal procedure," a division bench of the court comprising Chief Justice A M Khanvilkar and Justice Alok Aradhe said disposing of Singh's plea.
Singh had sent a letter to the court highlighting deficiencies in the investigation being conducted by a Special Investigation Team constituted by the state government in the MPPEB scam and had sought a probe by the CBI. He wanted his letter to be treated as a petition.
Singh had highlighted the way students and their parents were arrested in a midnight crackdown and alleged that despite involvement of Rashtriya Swayamsevak Sangh leaders they had not been questioned.
He had also raised the issue of "conflict of interest" as Additional Advocate General Purshendra Kaurav, who had as a lawyer filed a petition on behalf of former Akhil Bharatiya Vidyarthi Parishad leader V D Sharma in a case related to admissions in private medical colleges, was now defending the state and MPPEB. Sharma's case is still subjudice, Singh had said in his letter.
The MPPEB scam is related to manipulation of pre-medical test results and recruitment to various government services, including teachers, constables and food inspectors.
The Congress and state's ruling BJP have been targeting each other over the scam.
State's former technical education minister Laxmikant Sharma and several officials and students are under arrest in the case. Congress had even accused Chief Minister Shivraj Singh Chauhan and his wife of complicity in the scam following which he filed a defamation case against Congress spokesman K K Mishra, who had made the allegations.