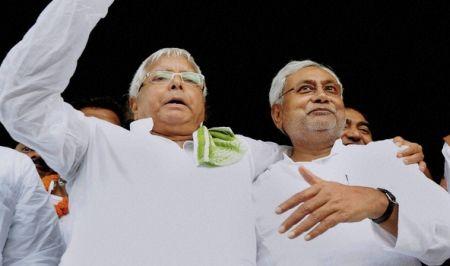 A Patna district court on Wednesday closed a case against Rashtriya Janata Dal president Lalu Prasad relating to a first information report registered against him during last Lok Sabha elections, on the plea of the state government, days after the government sought closure of another case against Lalu and his two sons in connection with a party-sponsored bandh.
Judicial Magistrate Gayatri Kumari ordered closure of the case against Lalu registered against him with Parsa bazaar police station in Patna district in 2014 on the request of the public prosecutor.
The case was registered against the RJD chief on April 5, 2014 on the basis of the statement of circle officer of Phulwarisharif Sunita Prasad in connection with preventing a photographer deployed by her to shoot the road-show of Lalu during campaign in Patliputra Lok Sabha seat.
Lalu's eldest daughter Misa Bharti had unsuccessfully contested from Patliputra seat in 2014 general elections. She had lost to Union Minister of State for Drinking Water Ramkripal Yadav.
The FIR was registered against Prasad under Section 171 F (punishment for undue influence or personation at an election), 186 (obstructing public servant in discharge of public function) and 188 (disobedience to order duly promulgated by public servant) of the Indian Penal Code.
The chargesheet was filed in the case on May 27, 2015.
The public prosecutor pleaded with the judicial magistrate for closure of the case, which was accepted by the court.
Wednesday's order to close a case against the RJD chief came close on heels of state government withdrawing a case against him, his two minister-sons and others for alleged vandalism and stopping government officials during an RJD-sponsored bandh last year.
On January 19 last, the chief judicial magistrate's court of Patna had accepted the plea of government lawyer for withdrawal of the case against 262 RJD leaders including Lalu, his sons Tejaswi Yadav and Tej Pratap Yadav besides state party chief Ramchandra Purve related to charges of vandalism during RJD state level bandh on July 27, 2015.
Senior Bharatiya Janata Party leader Sushil Kumar Modi had asked whether the step was not tantamount to defamation of the Patna high court which is separately hearing a case in connection with RJD bandh. The case would come up in the HC on February 1.