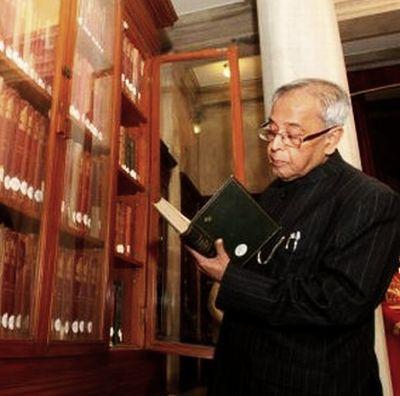 An active politician for over four decades, Pranab Mukherjee on Thursday completed one year in office as a copybook President, a period that was marked by proactive steps within and outside Rashtrapati Bhavan.
77-year-old Mukherjee, a stickler for rules and conventions in his heydays as parliamentarian or minister, used occasions, whenever he got in the last one year, to impress upon the lawmakers to shed disruptions in the House while asking the judiciary to avoid overreach.
He shed the "honorific" of "His Excellency" in people addressing him and sought to reach out to them taking Rashtrapati Bhavan closer to the common man.
He was seen as proactive when he disposed of the mercy petitions of 26/11 attack convict Ajmal Kasab and Parliament attack convict Afzal Guru that had triggered a controversy but his aides explain that as President he had no choice but to go by the Cabinet advice.
"A President has to function by the book," Mukherjee told a journalist at an informal tea with the media in Rashtrapati Bhavan on Wednesday when he was asked about people calling him an active President.
To mark the day, the President has a busy schedule on Thursday with back-to-back functions opening a public library for residents of Rashtrapati Bhavan, dedication of a cricket ground in the school within the President's estate, unveiling of a bronze statue of Mahatma Gandhi and launch of digital initiatives linked to the President's website.
During the turbulent period last year-end in the capital, the demonstrations against the rape and murder of a 23-year-old paramedical student reached the gates of Rashtrapati Bhavan seeking his intervention.
Mukherjee asked the authorities to take all steps to bring the perpetrators of this "ghastly crime" to justice and ensure that the girl's death will not be in vain.
Shaken by the ghastly crime against women and children being reported from across the country, the President in his speeches at educational institutes urged the students and the society to re-set the moral compass.
Interaction with people comes naturally to Mukherjee and this has not changed during his first year as the Head of the State, an office known for maintaining strict protocol.
Be it reaching out to the cheering crowd or interacting with the best brains of the country during discussions in educational institutions, Mukherjee enjoys every bit of his interactions with people.
During the last one year as the President of the country of over one billion people, Mukherjee had travelled to 23 states which includes five states of northeast during which he visited 36 educational institutions.
Shunning the ceremonial pomp, Mukherjee makes it a point to have an informal discussion with teachers and students whenever he is visiting an educational institute to know their point of view and convey to them his ideas.
"The Presidency has given me an opportunity to go back to academics," he said, recalling his days when he taught political science in a college in South 24 Parganas district in West Bengal.
Mukherjee also interacted with governors across the country through a new video conferencing facility. As Pro-Chancellor of several universities, he will also talk to vice chancellors and subsequently students.
The President says with a huge number of universities it would take two years for him to make a round of them.
Paying attention to small details is a characteristic of Mukherjee which is reflected in the renovation of the imposing Rashtrapati Bhavan which is his new abode for last one year.
His love for history is evident in the way disused Durbar Hall and adjoining library have been renovated since he took over the office.
Till about a year back, the historical hall was not in its best shape because of poor upkeep and disuse as bigger Ashoka Hall was used to conduct official ceremonies.
Due to Mukherjee's interest in the restoration of this heritage building as he completes first year in office, Durbar Hall is back to its pristine glory and fitted with an ultra-modern acoustic system to cut down the echo which was a big problem while conducting programs in the hall with its 33 m tall dome.
The library, where books were once dumped, now houses some rare of books dating back to 1800 AD neatly stacked in almirahs which were constructed in 1930s on the designs given by Edwin Landseer Lutyens, the British architect who designed this 340-room building.
Known for his love of history, Mukherjee pressed for the renovation project to revive interest of public in the history and heritage associated with this 85-year-old building spread over 320 acres.
The Morning Room, Committee Room, Garden Loggia and North and South Drawing Rooms, Library, durbar hall, museums, antique furniture and specially rare books were given careful renovations under the guidance of specialists to bring them back to their pristine best.
An audio-visual section with rare and old speeches of Lord Mountbatten, former presidents Rajendra Prasad, Dr S Radhakrishnan as well as films of Films Division archives has been set up.
Alongside meticulous restoration, the President also ensured that people should be welcomed in the building which he considered as an important part of country's heritage and should be showcased to them.
The result was an online booking system for visiting Rashtrapati Bhavan and Mughal Gardens which gave way to an earlier cumbersome process of writing to the Military Secretary for the visit.
Mukherjee's experience in public life comes handy whether he is addressing a bunch of students or giving status of Indian economy to the investors from abroad. During his tenure, he gave important speeches at business chambers, emphasising its strong fundamentals and need to avoid gloom and despondency.
Raising issues which affect common man, he urged jurists on various occasions, to ensure speedy delivery of justice, legal aid to the needy, importance of judicial accountability, promoting alternate methods of dispute resolution.
Addressing the legislators and parliamentarians, Mukherjee asked them to avoid disruption of the House, stressed on the need to devote more time to the legislation and to avoid rule by the ordinance.
However, next year Mukherjee may face challenges, after the general elections depending on the nature and the verdict. It is also an area where the Constitution provides a President some extraordinary leeway.
Image: President Pranab Mukherjee at the Rashtrapati Bhavan Library
Photograph Courtesy: Rashtrapati Bhavan