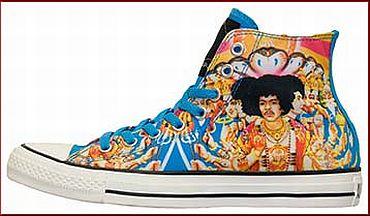 Designer shoes carrying pictures of Hindu deities were withdrawn from sales in the United States after an outcry by the Indian community.
The American company, which had launched the shoes named after guitar legend late Jimi Hendrix, apologised to the Hindu community and immediately withdrew from the market its special designer shoes.
"We apologise for the unintentional offence and have decided to immediately discontinue the sales of the Jimi Hendrix/Axis shoes," said Jessica, a spokeswoman for the company. The shoes carried images of Hindu Gods and Goddesses.
The Converse shoe company launched its new range of shoes to commemorate the memory of Rockstar Jimi Hendrix by introducing shoes, which carried the cover of his record breaking album 1967 'Axis: Bold as Love.'
A Houston-based woman Beth Kulkarni raised the issue with the shoe company last week and the company sent its apologies to her via email. The company responded, saying it was an unintentional mistake on their part.
"As a Hindu, I am very much offended by the use of pictures of Hindu deities on Converse shoes. Hindus in general find this very offencive. To avoid further hurting the sentiments of Hindus world-wide, I request that these shoes be removed from the market effective immediately," Kulkarni wrote in three emails to the Converse shoe company.
"Converse designed the Converse Chuck Taylor Jimi Hendrix/Axis shoe to demonstrate our support of music culture and to celebrate the contributions of the global music icon, Jimi Hendrix," Jessica said in her email response on Tuesday.
"With approval of the Hendrix estate, we applied artwork taken directly from the 1967 "Axis: Bold as Love" album cover. The cover art included images of Hindu deities.
"Our ambitions were to honour the music of Jimi Hendrix. It was not our intent to offend Hindu culture by having Hindu deities on footwear," Jessica wrote.
Houston-based Vijay Pallod said when he called the company, he was informed that the company has withdrawn all such shoes from the market.
"When I heard about these shoes, my immediate concern was to express my own feelings and request for action and also indicate that many other Hindus also would feel as I did. I am sure other Hindus did likewise," Kulkarni said.