The electoral tussle between the Congress and the Bharatiya Janata Party is being played out on a new platform -- billboards.
Rediff.com's Vicky Nanjappa reports from Bangalore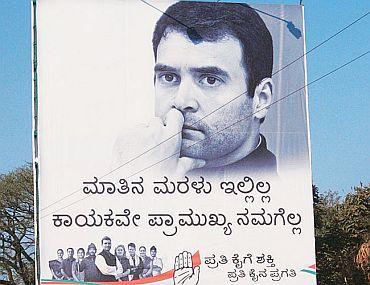 Karnataka Congress is all set to spend between Rs 15,000 to Rs 5 lakh on billboards in Bangalore featuring Rahul Gandhi.
The Congress has already booked 1,500 billboards across the city and will add another 500 more in the coming week.
Congress sources told rediff.com that each of these billboards will be themed 'Power in Every Hand'.

A Congress leader said, "If they take the social media route to popularise Modi, we have decided to go right into the hearts of the people and display Rahul and his message in every nook and corner in Bangalore."
There are around 4000 billboard spaces which have been hired by private advertising agencies in Bangalore. With the Congress targeting 2000 billboards as part of the complete campaign and 500 already rented out, the BJP and the other parties will be left with only 1500 to hire.

However, the BJP is not worried.

Messages cannot be conveyed through billboards alone and this sudden urge for publicity only indicates that the Congress is nervous about Modi, says senior BJP leader Ashwathnarayan.
The BJP has decided not to get into this billboard war and calls it an act of desperation.

"We will print three pamphlets and distribute it in Bangalore. It would list Narendra Modi's life, his development and the 100 scams by the UPA," says R Ashok, senior BJP leader and former state home minister.

This will convey the message louder than the billboards, he points out.
The Congress though is going all out with the billboard idea.

In Delhi alone, the Congress has plans of putting up 4000 billboards.