The Gujarat tourism department is planning to convert the erstwhile house of Modi's family into a museum, reports Sohini Das.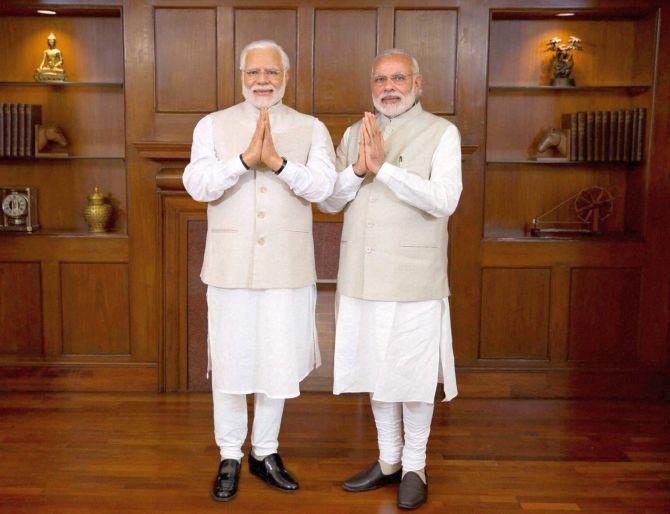 Soon, those interested will be able to visit a museum in Prime Minister Narendra Modi's birthplace, Vadnagar, if things go according to plan.
A trip along the narrow bylanes of Vadnagar, the ancient capital of the Gujarat kingdom that the Puranas describe as a flourishing city, is set to become more interesting as tour operators work to create a "Modi landmarks" tour around the city.
The state tourism department, too, is also in the process to develop Vadnagar-Modhera-Patan as a heritage tourist circuit that involves a Rs 7.9 crore redevelopment of Vadnagar railway station (where once Modi sold tea as a boy).
Union tourism ministry has sanctioned Rs 99.81 crore for the circuit under the Swadesh Darshan Circuit, and the Gujarat Tourism is the nodal agency for executing the same. While this involves creating tourism infrastructure and preservation of these heritage sites together with promoting it for tourists, local travel operators are banking on Modi connection to sell the package.
The Gujarat Tourism Development Society that comprises several key tour operators in the state is planning to convert the erstwhile house of Modi's family into a museum. Modi's family had sold their modest house in Vadnagar where the PM had spent most part of his childhood when they moved to Gandhinagar, the state capital.
Manish Sharma, owner of Akshar Travels and also the chairman of GTDS, says that they are in talks with the current owners and in case they are willing to sell the property, it could be converted into a museum that would showcase the journey of Modi from this small town in north Gujarat to 7 Lok Kalyan Marg.
"As it is, many inquisitive tourists descend on Vadnagar and everyone who comes to this town makes it a point to visit Modiji's house. The house is always thronged by many tourists and the current owners might just want to sell it off," says an optimistic Sharma who has already made an offer to buy the property.
His agency has been conducting a guided tour called "A Rise from Modi's Village" since January 2015 and so far around 25,000 people have already taken the tour, including yoga-guru-turned-entrepreneur Baba Ramdev and Union Minister for Tourism, Mahesh Sharma.
The 7.00 am to 7.00 pm tour which costs Rs 700 per person starts from Vadnagar and covers Patan (famous for its 11th century step-well Rani Ki Vav, a UNESCO World Heritage Site) and Modhera (famous for its 11th century Sun Temple located on the Tropic of Cancer).
Sharma claims that they had recently showcased the "Rise from Modi's Village" tour at ITB-Berlin, a leading international travel and tourism fair, in March this year, and received phenomenal response from tourists from Africa and West Asia.
We already have several hundred queries and expect around 50,000 tourists may visit the place in a year," he claims.
Vadnagar surely has an old world charm and has catapulted to the national fame post Modi's ascent to Delhi.
S J Haider, principal secretary tourism, Gujarat government, who is the nodal officer for executing the tourism ministry's plan, says that there are plans to develop Modhera as a solar town keeping true to the site's century old connection with the SunTemple, an architectural marvel built by the Chalukya rulers.
As for Vadnagar, the tourism department is planning to develop the several lakes in the region, the most famous being the Sharmishtha lake (where a young Modi had once swam with crocodiles).
"There is a plan to develop a theme park, boating jetty at Sharmishtha lake. This apart, there are plans to develop public utilities, pathways, landscaping of the area around the famous torans or gates at Vadnagar that have huge heritage value," Haider said.
At Tana-Riri close to Vadnagar, which is famous for its annual musical conference, plans are afoot to build an amphitheatre. The Vadnagar railway station, too, is in for a makeover as the tourism department would be developing a new façade apart from close circuit television and modern amenities.
As such the Western Railways is already converting the Mehsana-Tarange Hill metre gauge section into broad gauge, of which Vadnagar station is a part.
As for Patan, it already is famous for the step-well and its Patola sarees. Tourism department would be working on developing tourism infrastructure in the area and create tourist amenities.
IMAGE: PM Narendra Modi with his wax statue made for London's Madame Tussauds museum. Photograph: PTI Photo