Continued instability in Pakistan could impact safety of its nuclear weapons and materials, a latest US Congressional report has said as it described the sale of two nuclear reactors by China to Pakistan a violation of the NSG guidelines.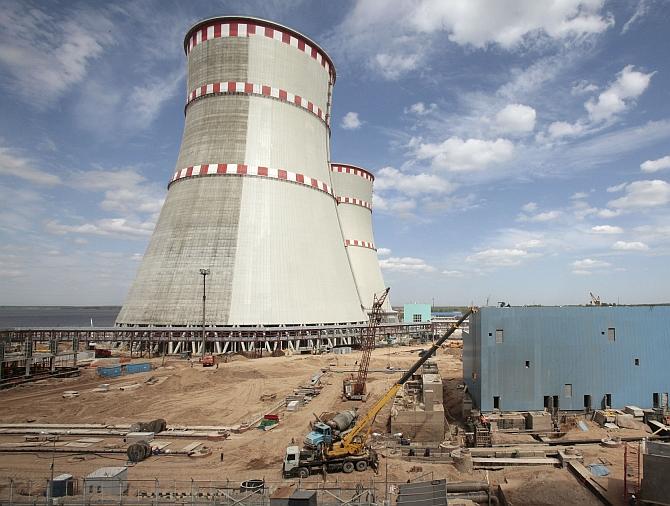 "While US and Pakistani officials continue to express confidence in controls over Pakistan's nuclear weapons, continued instability in the country could impact these safeguards. Furthermore, continued Indian and Pakistani nuclear weapons development could jeopardise strategic stability between the two countries," the Congressional Research Service (CRS) said in its latest report on nuclear weapons of Pakistan.
The CRS, which is an independent and bipartisan research body of the US Congress, prepares periodic reports on issues of importance for lawmakers for them to take informed decisions.
It is not considered as an official view or report of the US Congress.
In its 30-page report dated August 1, the CRS said that the China selling nuclear reactors to Pakistan for Chasma-3 and Chasma-4 are in violation of the current Nuclear Suppliers Group guidelines.
"US officials and other NSG members have said that the Chasma-3 and -4 sales by China are inconsistent with current Nuclear Suppliers Group (NSG) guidelines," CRS said in its reports, days after another US-based think-tank Arms Control Association (ACA) made similar allegations.
Contracts for Chasma 1 and 2 were concluded before China joined the NSG in 2004.
At that time, other NSG members agreed "to grandfather construction of plants in Pakistan which China had initiated,"
Assistant Secretary of State Thomas Countryman said during a May 12, 2015 Senate Foreign Relations Committee hearing.
In 2008, China and Pakistan agreed to the Chasma 3 and 4 construction "in response to the US-India Peaceful Nuclear Cooperation Agreement", according to a 2015 Nuclear Proliferation Assessment Statement submitted by the Obama administration to Congress, it said.
China argues that the contracts for Chasma 3 and 4 are grandfathered, but Countryman stated that the NSG did not agree to grandfather any additional reactors.
The NSG changed its guidelines in 2008 to allow nuclear trade with India, but the group does not allow trade with Pakistan.
"At present, China is apparently the only country planning to sell nuclear power reactors to Pakistan," CRS said.
According to CRS report, although Pakistan has made significant reforms in this area, many observers continue to be concerned that other states or terrorist organisations could obtain material or expertise related to nuclear weapons from elements in Pakistan.
The CRS said, according to some observers, spent fuel from Pakistan's Karachi and Chasma nuclear power plants could be vulnerable to theft or attack.
However, Pakistani officials have expressed confidence in the security of its facilities and have said that Islamabad has no plans to transport spent fuel from either reactor, it said.
Furthermore, CRS said chronic political instability in Pakistan and Islamabad's military efforts against the Taliban and al-Qaeda have raised concerns about the security of the country's nuclear weapons.
"Some observers fear that Pakistan's strategic nuclear assets could be obtained by terrorists or used by elements in the Pakistani government. However, US officials have generally expressed confidence in the security of Pakistan's nuclear weapons," it said.
"The collapse or near-collapse of the Pakistani government is probably the most likely scenario in which militants or terrorists could acquire Pakistani nuclear weapons," it said.
Noting that the main security challenges for Pakistan's nuclear arsenal are keeping the integrity of the command structure, ensuring physical security, and preventing illicit proliferation from insiders, the report said some observers are also concerned about the risk of nuclear war between India and Pakistan.
"The two countries most recently came to the brink of full-scale war in 1999 and 2002, and, realizing the dangers, have developed some risk reduction measures to prevent accidental nuclear war," it said.
"Nevertheless, Pakistan continues to produce fissile material for weapons and appears to be augmenting its weapons production facilities as well as deploying additional delivery vehicles -- steps that will enable both quantitative and qualitative improvements in Islamabad's nuclear arsenal," it added.
Some observers have also argued that Pakistan's expansion of its nuclear arsenal, development of new types of nuclear weapons, and adoption of a doctrine called "full spectrum deterrence" indicate "the growing nuclearising of Pakistan's national security policy."
These developments have "sparked international concerns about the safety and security" of the country's nuclear weapons, as well as raised "concerns that these weapons might be used through intentional, inadvertent, or accidental launch in a crisis or in limited warfare with India," CRS said.
Representative Image: Courtesy Reuters