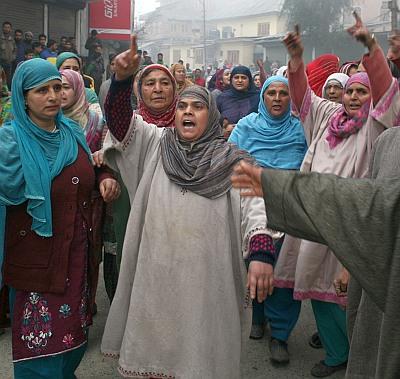 The Indian Army on Tuesday said it was moving ahead with 'unprecedented speed to initiate investigation' in the Chattergam firing incident in which two youth were killed and two others critically wounded on Monday evening.

"The Army has moved with unprecedented speed to initiate investigations into the incident of firing at Chattergam of November 3," a defence spokesman said in a statement.

"Overnight, the personnel alleged to be involved in the incident were moved to the location of the enquiry. The deputy commander of a neighbouring Rashtriya Rifles sector conducting the enquiry has been tasked with completing the investigations at the earliest. The GOC Chinar Corps has assured that justice will be done," the statement said.
"The condition of the two injured persons, Zahid Abdul Naqash and Shakir Ahmed Bhat, who were rushed to the 92 Base Hospital after the incident and were immediately operated upon, is stable. Their families were brought to the hospital where arrangements were made for their stay enabling them to stay close to the patient," it said.
While regretting the deaths, the army claimed that the youths, who were travelling in a car, did not stop at two vehicle checking points and even tried to break through the third barrier when asked to stop.

The killing triggered clashes in the Chattergam area early Tuesday morning even as the authorities imposed curfew-like-restrictions in the area on the outskirts of the capital city in central Kashmir's Budgam district.

Police used teargas and resorted to repeated baton charges to quell the protests.
The clashes continued till late afternoon.

Security in the area was beefed up by the administration.

The opposition Peoples Democratic Party has strongly condemned the killing of two youth and urged Prime Minister Narendra Modi 'to put a stop to the unaccounted killings in Kashmir'.
In a statement, party president Mehbooba Mufti said the 'killing of Faisal Ahmed Bhat and Mehraj-u-Din Dar only adds to the cold statistic of deaths in Jammu and Kashmir for which nobody is held accountable'.

Mehbooba also said that the 'continued use of Armed Forces Special Powers Act had generated an all-pervading sense of impunity among the security forces as they feel beyond reproach for their conduct and some of them misuse their authority and weapons'.

Meanwhile, moderate All Parties Hurriyat Conference chairman Mirwaiz Moulvi Umar Farooq has called for a protest shutdown on Wednesday against the killings.

Image: Kashmiri women raising slogans against the India Army in Srinagar. Photograph: Umar Ganie