'I am fighting for my country's land and I am fighting for my people.'
'I am fighting for my country, not against it,' Professor T Jayaraman tells Rediff.com's A Ganesh Nadar.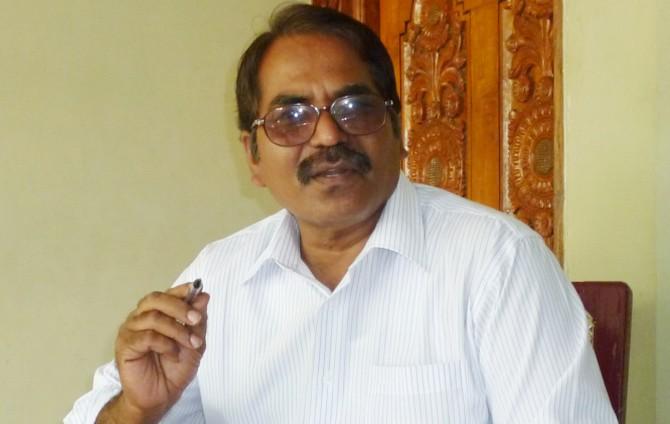 Professor T Jayaraman, the chief coordinator of the Anti-Methane Project Movement, has been booked for sedition for writing a 48-page booklet, Nadhigal Inaippu Thittam: Aarugalai Pidungi Virkkum India (Interlinking of Rivers Project: India Snatches And Sells Rivers).
The sedition case was filed by the Mayiladuthurai police station in Tamil Nadu under Section 153B (1) of the Indian Penal Code.
The activist wrote the booklet during his 42-day detention at the Tiruchirapalli central prison following his arrest along with eight others in July for participating in protests against the Oil and Natural Gas Corporation's oil extraction being carried out at Kathiramangalam.
Prior to this, he had spent seven days in jail for protesting against a gas leak from an ONGC pipe polluting local ground water.
"So far they have filed 12 cases against me," Professor Jayaraman told this correspondent.
The professor said he was on the government's radar for protesting against ONGC which he charged with polluting the rice bowl of Tamil Nadu, the Cauvery delta.
"Their problem is that they are shocked when they meet someone they cannot intimidate, they can threaten to kill me or jail me, but I am not going to budge."
Discussing the booklet that has invited the charge of sedition, he said, "I am against this interlinking of rivers because it is being done with 37 canals. These canals are being built by big companies, they are making huge investments in it. They are not in the business for charity. They will want returns for their investment."
"Take our national highways. They are built by private companies who then charge us a toll for using the highway. Similarly, once the water enters the canals they have built, they will charge us for the water which we are now getting free," he argued.
"My book's title is Snatching Rivers And Selling Water. This has obviously got the government's goat. The book is only 48 pages long, yet it has shaken up the government so much that they are booking me for sedition," Professor Jayaraman, who taught history at the AVC College in Mayiladuthurai before retiring five years ago, said.
"Is this a democracy? What kind of democracy is this where I cannot share my views with my people?"
"I am not scared," he asserted. "I will continue to protest against the rivers' interlinking."
The Tamil book saw a print run of only 100 copies. Yet, someone somewhere took note of it, and alerted the powers-that-be about it.
So quick was the government reaction that within days of the book's publication on October 22 the sedition charge was slapped against Jayaraman.
"I am fighting for my country's land and I am fighting for my people. I am fighting for my country, not against it. If they call it sedition, it doesn't become sedition."