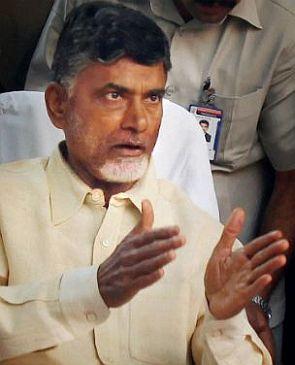 Ten years after his defeat, Chandrababu Naidu is once again going to be the chief minister of a truncated Andhra Pradesh, says Aditi Phadnis
Like they say: the more things change, the more they stay the same. Events have come a full circle. Chandrababu Naidu is once again going to become chief minister of Andhra Pradesh -- albeit a truncated AP -- and in the way that he transformed Hyderabad, is now going to be tasked with creating a new capital of a new state.

Little wonder, then, that there's a new spring in his step. Exactly 10 years after his historic electoral defeat, he now knows what to do - and what not to do.

There is unanimity that it was Naidu who transformed Andhra Pradesh. During the nine years of his chief ministership, Microsoft Chief Mentor Bill Gates invested heavily in Hyderabad. Tony Blair and Bill Clinton had both visited him -- not India but Naidu -- in Hyderabad. Time magazine named him "South Asian of the year"; the governor of Illinois created a Naidu Day in his honour; and he only had to ask for money and he got it -- from the Asian Development Bank, the World Bank, the British government. His greatest regret was that Hyderabad was passed over for Formula One racing when a track was to have been laid in India.

But after nine years as chief minister, when he asked voters to re-elect him, they threw him out. The principal reasons for Naidu's defeat -- as a model ruler who did everything right and was believed to be invincible -- in the 2004 Assembly and Lok Sabha elections were two. He did not prepare his party for the pain of economic reform; and did not ensure that the fruits of reform extended beyond the capital.

As the Telugu Desam Party inherited from his father-in law N T Rama Rao primarily comprised disgruntled and ambitious Congressmen, Naidu's job was to de-school them and create a new Andhra Pradesh politician. The electoral setback pushed this plan back. The untrammelled rise of Y S Rajashekhar Reddy -- who wanted to do everything Naidu had done, only better -- pushed Naidu further into the margins.

Naidu saw 2014 as the last chance to redeem himself and the TDP. He threw his own feelings to the winds and paid attention to party leaders who had begun predicting in 2013 that the state was ready to back Narendra Modi. It is hard to tell how Naidu and the TDP would have done in this election independent of Modi. True, tying up with Modi cost him Telangana, which has a significant Muslim population; but then, he had little traction in Telangana anyway.

The most important thing that the years in opposition taught Naidu was you could not get by only with urbanisation. You needed to have farmers on your side. What brought farmers back to the TDP was Naidu's promise that he would waive farm loans.
While his principal rival, Jaganmohan Reddy said he would create conditions for farmers to make money and make agriculture remunerative, (adding that he did not want to make promises that would be impossible to keep), Naidu made these promises freely. Farmers were badly hit by typhoon Phailin and although Andhra Pradesh has a revenue deficit amounting to nearly Rs 15,000 crore, Naidu still said crop loans would be written off.
So he will be the first leader to ask the Centre for a financial package against the background of the natural calamity the state was hit with last year. The crop-loan waiver in Andhra Pradesh alone might cost up to Rs 70,000 crore.
There will be other bills to be paid. Along with farm-loan waiver, Naidu had also offered to waive all loans taken by women's self-help groups. He had offered young unemployed men, unemployment allowances of Rs 2,000 and a state pension of Rs 1,000, up from Rs 500 to the old. Uninterrupted power supply, 20 litres of mineral water for Rs 20, and free education (KG to PG) for children from poorer families were among the other promises he made.

The TDP also promised two acres of land to the landless and free houses, NTR health cards and addition of many more ailments that would be treated free of cost. "All patta and assigned land in possession of farmers and the poor in both the regions will be regularised. For the urban poor, there will be a 'canteen scheme' where meals will be available for Rs 5, while for the middle-class, there will be a separate housing scheme. For women, I will assure them a police system by which the cops will reach women in distress within five minutes, while for those poor women who have just become mothers, the TDP government will pay Rs 10,000 per month for six months," Naidu had said.

All these promises will come back to haunt him, beginning June 2, when the bifurcation of the state will be notified and become a reality. Naidu will begin to do what he does best: planning the outlines of a new state and new cities, new ideas and hopefully, a new future for young people.