The Centre has released Rs 1,712.1 crore for Tamil Nadu from the National Disaster Response Fund for drought and cyclone relief and another Rs 1,235.52 crore to Karnataka for drought.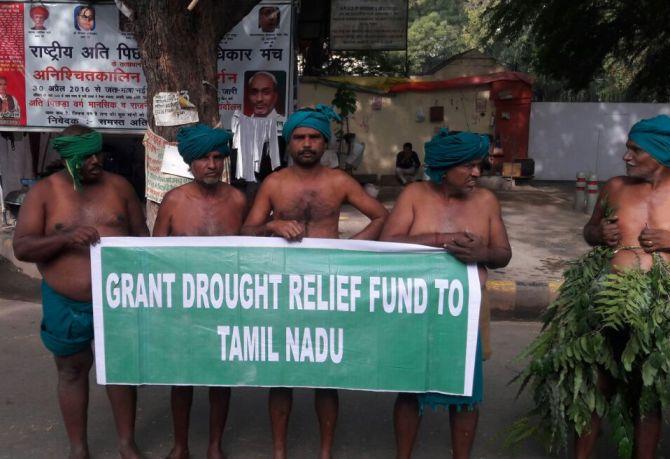 The decision comes in the wake of Tamil Nadu farmers protesting here in the national capital demanding loan waiver and other assistance. Tamil Nadu and Karnataka are both facing severe drought in many districts.
"The Central government is concerned at prevailing drought situation in the states of Tamil Nadu and Karnataka," an official statement said.
The decision to provide relief under NDRF to both states was taken in the recent meeting of a High Level Committee chaired by Home Minister Rajnath Singh.
Out of Rs 1,712.1 crore released to Tamil Nadu, Rs 1,447.99 crore is for kharif drought relief and Rs 264.11 crore for cyclonic storm 'Vardha'. For Karnataka, the entire Rs 1,235.52 crore is for drought.
The committee has approved sanctioning of Rs 1,793.63 crore to Tamil Nadu for kharif drought, but the Centre has released a sum of Rs 1,447.99 crore to Tamil Nadu after adjusting Rs 345.64 crore lying in the State Disaster Response Fund.
In case of Karnataka, the HLC has approved sanctioning of Rs 1,782.44 crore to Karnataka from the NDRF, but the Centre has released Rs 1,235.52 crore after adjusting Rs 96.92 crore available with the state as balance in the SDRF and earlier release of Rs 450 crore by the central government.
The two states have been asked to disburse relief funds directly to the bank account of beneficiaries.
Farmers belonging to the Cauvery belt in Tamil Nadu are protesting here demanding a drought relief package of Rs 40,000 crore from the Centre, farm loan waiver and setting up of Cauvery Management Board.
On Friday, Congress Vice President Rahul Gandhi visited Jantar Mantar to express solidarity with the farmers from the southern state who are camping here for the 18th day in a row.
As per the official statement, the relief fund released to Tamil Nadu and Karnataka are over and above the amount allocated to them as devolution of 42 per cent of central taxes as per the recommendation of the 14th Finance Commission.
For 2016-17, Rs 6.08 lakh crore has been released to all states as devolution of central taxes. "Tamil Nadu has received Rs 24,538 crore and Karnataka has received Rs 28,750 crore under devolution formula during 2016-17."
During 2016-17, the central government has also provided Rs 48,869 crore to all states as grant for rural and urban local bodies to primarily meet the requirement of basic necessities for people living in these areas.
For the benefit of farmers, Rs 13,240 crore has been provided under the Pradhan Mantri Fasal Beema Yojana in 2016-17.
Also, Rs 2,45,435 crore has been provided under Centrally Sponsored Schemes for transfer to states from the central government during 2016-17. This includes Rs 47,499 crore under MGNREGS which is used for employment generation and water conservation works.
In view of onset of summer season, the Prime Minister has instructed that in the next three months all the states should focus on water conservation related works by utilising funds available under schemes such as Pradhan Mantri Krishi Sinchai Yojana and MGNREGS.