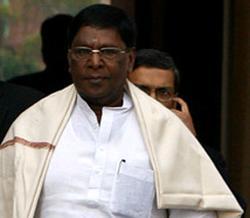 The government on Friday rejected former Central Bureau of Investigation director U S Mishra's allegation that he faced political pressure when he was investigating the disproportionate assets case against former Uttar Pradesh Chief Minister and Bahujan Samaj Party chief Mayawati.


"As far as the CBI is concerned, it is an independent organisation that has been working within its domain and (there is) no political interference from our government," Minister of State for PMO V Narayanasamy said.
Law Minister Ashwani Kumar also ruled out any pressure on the CBI director from the government.
"There is no such pressure," he told reporters outside Parliament House.Minister of State for Parliamentary Affairs Rajiv Shukla alleged that Mishra was working as the CBI director under the national Democratic Alliance rule, so the Bharatiya Janata Party should respond to his allegations.
Shukla also said the former bureaucrat was 'unnecessarily creating controversy and it is not good'.
"It should be found out that this particular officer was under whose regime. If I remember correctly, he was under Vajpayee regime. He was a CBI director. I think the BJP should respond to this allegation," he said.
The BJP, however, reiterated its charges that CBI was being 'misused' by the government and the fresh allegations only buttresses such views.
"We have been saying right from day one that the CBI is being misused from time to time to harass political opponents to win over allies, and keep them under control. CBI has been converted into Congress Bureau of Investigation," senior BJP leader Venkaiah Naidu told reporters outside Parliament House.
"Our views have been further confirmed by the views of the former CBI director," he said. Responding to Congress' allegation that Mishra was a director during the NDA regime, Naidu said similar views were expressed by another former CBI director Joginder Singh.
Mishra had told a news channel on Thursday that 'when we investigate cases against prominent political leaders, there are some influences to keep the progress report pending or present in a certain way'.