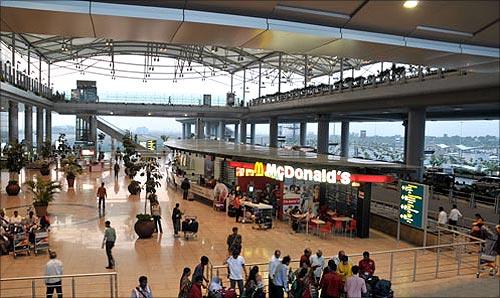 The Central Bureau of Investigation has booked Delhi-based journalist Upendra Rai and chief security officer of a private aviation company for allegedly indulging in dubious financial transactions and getting access passes made by the Bureau of Civil Aviation Security by furnishing false information, officials said on Thursday.
The probe agency carried out searches at eight locations in Lucknow, Noida, Delhi and Mumbai, they said.
In its first information report, the agency has alleged that going by the value of transactions above Rs one lakh during 2017, Rai's accounts received Rs 79 crore while Rs 78.51 crore was debited from it during the same period.
'He allegedly purchased a fleet of cars out of the ill gotten money. It is also learnt that he received Rs 16 crore in a year from shell companies, for bribing and fixing cases in Income Tax department. He also received Rs 6.5 crore from Sahara India in one year,' the FIR alleged.
The agency said two persons, Rahul Sharma and Sanjay Snehi, allegedly assisted Rai to park the ill-gotten money.
It also alleged that Rai in criminal conspiracy with Prasun Roy of Air One Aviation Pvt Ltd, and others cheated BCAS and the Delhi International Airport (DIAL) and obtained, fraudulently and dishonestly, temporary and permanent Aerodrome Entry Pass (AEP).
Rai accessed the valuable AEP on the basis of false information. He also got legal rights to access all the airports of the country with highly sensitive, restricted and sanitised areas, thus jeopardising the national security, the agency said.
According to the FIR, Rai in connivance with Roy, in order to get the All India AEP, submitted an application falsely showing himself as Director Quality Control of the company. The company sponsored the name of Rai and forwarded the application to BCAS which in turn "as party to criminal conspiracy" issued a permanent AEP in favour of Rai.
The AEP authorised him to access all airports in India, in violation of the laid down Air Operator Certification Guidelines and Civil Aviation Requirements, it alleged.
The CBI said Rai was not technically qualified and his name was not approved by the DGCA for the post of Director General Quality Control of Air One.
'The source has further informed us that in his application for issuance of Press Information Bureau card for the year 2018, the journalist had not declared himself as a bonafide employee i.e consultant or director, Quality Control of Air One,' it alleged.
Rai also received Rs 1.02 crore from Air One in four installments, the CBI added.