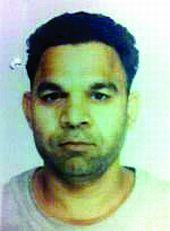 Within days of the release of the names of 30 individuals, including eight South Asians, accused of war crimes and crimes against humanity, Arshad Muhammad, a Pakistani, was arrested in Mississauga, Canada.
On the list are two Pakistanis, two Sri Lankans and four Afghanis. The others hail from Congo, Guatemala, Nigeria, Ghana, Angola, El Salvador, Panama, Peru, Somalia, Haiti, Algeria, Yugoslavia, Iraq and the Honduras. They are to be deported as and when located.
The Canada Border Service Agency had posted their names, aliases, photos and other details on its website, saying, 'All 30 people are subject to Canada-wide warrants. Most were last known to be in Toronto, though a few others were listed elsewhere in Ontario as well as Montreal and Alberta.'
This helped citizens identify Muhammad at a factory tile outlet in Mississauga on July 22. When he went to the same store on July 23, the Peel police arrested him in the parking lot.
The other Pakistani on the list is Mahmood Khalid Hafiz from Calgary, Alberta. The Sri Lankans listed are Jerome Fernando and Illandaridevage Kulatunga alias Asoka Kulatunga. The Afghanis listed are Abdullah Khalid, Abdul Khalil, Sharif Osmani, Nazir Ahmed Rasuli. No details have been released about the crimes they have committed.
At a media briefing July 21, Public Safety Minister Vic Towes said, "We all have a part to play in making our communities safe, and today we are asking for Canadians' assistance. In releasing the names of individuals, who are residing illegally in Canada and who are complicit in committing war crimes and crimes against humanity, it is our hope that new information will help our law enforcement officials track them down and remove them from Canada."
Some refugee and immigration agencies have criticised the government for its decision to post the names and photos of all 30 people, pronouncing them criminals before any court judgment.
But the government defended the move, saying these individuals had not presented themselves before the police despite repeated requests.
"Our government received a strong mandate from Canadians to maintain the integrity of our immigration system. Those who have been involved in war crimes or crimes against humanity will find no haven on our shores," said Citizenship and Immigration Minister Jason Kenney, who was also present at the media briefing.
"Should they arrive here by fraud, they will be identified, they will be located, and they will face the consequences."
Besides Muhammad, the police have arrested Cristobel Gonzales-Ramirez from Honduras, and Henry Pantoja Carbonel and Manuel De La Torre Herrera from Peru at the time of going to press.
Image: Arshad Muhammad