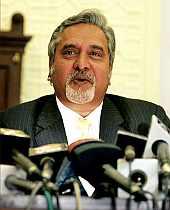 Janata Dal-United president Sharad Yadav has demanded that a case under 302 of Indian Penal Code (punishment for murder) should be filed against Vijay Mallya in connection with the suicide case of the wife of a Kingfisher Airlines employee.
Yadav, a former civil aviation minister, said if the Kingfisher owner had paid salaries to his employees then such a tragic incident would not have taken place.
The JD-U chief cited the example of former Haryana minister Gopal Kanda, who is presently in judicial custody on charges of abetting the suicide of a former airhostess Geetika Sharma, to justify his statement.
"If a person dies because of somebody's torture then the guilty is charged under Section 302. You send Gopal Kanda, who is an accused in the Geetika Sharma suicide case, behind bars. Then why is he (Vijay Mallya) not sent behind bars," he asked.
"The wife of a Kingfisher employee has written a letter mentioning the reasons for her committing suicide. Vijay Mallya has hurt the Indian culture. He gives sorrow to the people," Yadav added.
Sushmita, the wife of Manas Chakarvarti who is a ground staff in Kingfisher Airlines, was found hanging in her flat in southwest Delhi around 1.30 pm on Thursday. She was rushed to a nearby hospital, but was declared brought dead. 
A suicide note left behind by her said that her husband, a retired air force official working as a technician in Kingfisher Airlines, has not received salary for the past four-five months, police said.
The debt-ridden airline was virtually grounded Monday as the passenger carrier had to cancel all its 50 flights after a section of its employees went on a flash strike on Sunday demanding payment of their dues by October 5.