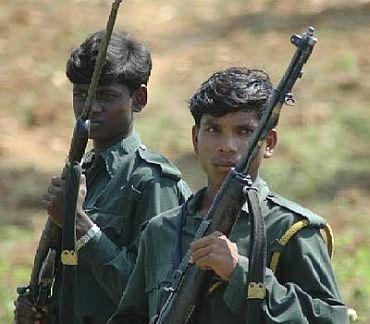 The bullet-riddled bodies of Chhattisgarh Congress chief Nand Kumar Patel and his son Dinesh, who were kidnapped by Maoists, were today found along with those of eight others in Jiram valley in Bastar.
With the recovery of the bodies, the toll in the lethal Maoist attack on a convoy of Congress leaders on Saturday has climbed to 27, police sources said.
Thirty-two people have been injured in the attack, DGP Ram Niwas said on Sunday.
The bodies of Patel, his son Dinesh and eight others, mainly security personnel, have been recovered from Jiram valley in Bastar division, the sources said.
The Maoists had kidnapped Patel and his son Dinesh after attacking the convoy of Congress leaders.
Heavy rains in the area is hampering the operations of the security forces.
Senior Congress leader Mahendra Karma was killed and former union minister V C Shukla injured when heavily-armed Maoists ambushed a convoy of party leaders inside a dense forest in Chhattisgarh's Bastar district on Saturday.
Congress Vice President Rahul Gandhi, who arrived Raipur in the wee hours of Sunday, said the party cannot be cowed down by such attacks and will continue to move forward.
"It is not an attack on Congress. It is an attack on democracy. But, we'll not fear from such an attack and continue to move forward with enthusiasm," Gandhi said.
Gandhi also met V C Shukla and other injured leaders at a hospital.
"I met V C Shukla and other injured leaders at a hospital. As soon as his condition becomes stable, he'll be sent to Delhi," he said.
"Prime Minister Manmohan Singh and Congress President Sonia Gandhi will also be visiting the state," Gandhi said.
In the wake of the deadly attack, security has been stepped up at the Congress Bhavan in Raipur and other vital installations in the state.
State Congress spokesperson Rajesh Bissa said, "The body of Nand Kumar and his son have been found. If the state government would have taken care of security during Parivartan Yatra, then this incident would not have happened. We all are in shock".
Soon after the attack on Saturday, Prime Minister Manmohan Singh had spoken to Chhattisgarh Chief Minister Raman Singh and offered all help in rescue and relief operations.
He strongly condemned the "dastardly" Maoists attack on Congress leaders and workers in Chhattisgarh.
The Maoist attack took place in a dense forest near National Highway 202 connecting Chattisgarh with Naxal-hit Bhadrachalam district in adjacent Andhra Pradesh.
The opposition Congress's Parivartan Yatra, comprising senior party leaders, was launched on April 12 in the state where Assembly elections are due by year-end.
The Centre has rushed more than 600 CRPF personnel, including elite CoBRA anti-Maoist commandos, to sanitise and take control of the Naxal attack site in Chhattisgarh.
The Centre has mobilised the CRPF personnel to not only take control of the area but also launch search and rescue operations as it is suspected that some people may be present in nearby jungles.