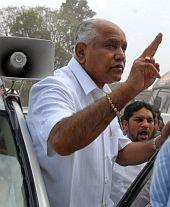 Amidst talk of dissolving the Karnataka legislative assembly, the Bharatiya Janata Party has decided to play a waiting game.

The BJP government in Karnataka got a shake up on Sunday when 22 legislators took sides with B S Yeddyurappa during the launch of his new party, Karnataka Janata Party at Haveri.

While 22 legislators were present at Haveri with Yeddyurappa, only 13 took part in the launch rally.

The BJP is keeping an option to dissolve the house open, but will not take the first move.

Sources in the party told rediff.com that there is no question of dissolving the House.

The BJP still has majority and none of the legislators who attended the KJP meet have resigned.

It is up to the high command to decide on the action to be taken against them.

However, if the BJP acts against all legislators then it finds itself in a minority.

The BJP wants Yeddyurappa to make the first move. It would want him to direct these MLAs to pull out of the government so that he looks like the culprit.

Yeddyurappa openly challenged the BJP to dissolve the house, but has not told his supporters to withdraw support.

He would also wait for the BJP to take action and would prefer it if the government fell on its own. He would not want to take the blame.

Meanwhile state BJP president K S Eshwarappa said that they were contemplating action against these legislators. He indicated that they may not be given tickets in the forthcoming elections.