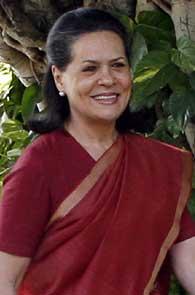 Stung by Congress President Sonia Gandhi's rejection of the demand for Prime Minister Manmohan Singh's resignation, the Bharatiya Janata Party on Wednesday said such an attitude by the ruling party is not helpful in a democracy as the demand "is based on facts".
BJP President Rajnath Singh expressed concern over Gandhi's statement -- where she had said "let them ask" when the media sought her response to the opposition's demand in Parliament for Dr Singh's resignation on the coal issue.
"The ruling party should exercise restraint. We are the principal opposition and we are demanding the resignation on the basis of facts. The Congress should also respond on the basis of facts. Such an attitude is not good in a healthy democracy," said Singh.
The Opposition continued its tirade against the United Progressive Alliance government on both the coal mines allocation issue and the reported vetting of the Joint Parliamentary Committee's report on the 2G spectrum scam. It reiterated its demand for Dr Singh's resignation.
"Both the 2G case and the coal scam case are progressing in the same direction. The government is making all-out efforts for a cover-up. But the more they do so, the more things are coming out," said BJP spokesperson Prakash Javadekar.
Alleging that such "monumental scams" had never taken place in the past, the main opposition said the "cover-ups" are being attempted as the prime minister is "directly involved and is an accused in the cases".
"No minutes or records or reasons have been given why some applicants were selected while some others were denied the contracts. The prime minister himself has signed the papers, so he is definitely involved," Javadekar said.