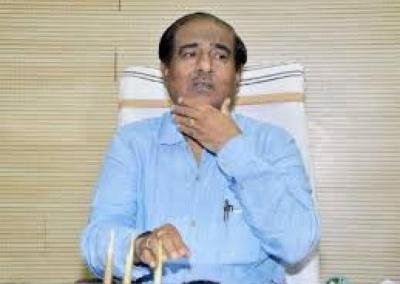 A Bihar court on Tuesday remanded Lalkeshwar Prasad Singh, the alleged mastermind of the toppers scam in the Bihar intermediate examination, and his former JD-U MLA wife Usha Sinha, to a 14-day-long judicial custody. M I Khan/Rediff.com reports from Patna.
Former Bihar School Examination Board chairman Lalkeshwar Prasad Singh, his wife Usha Sinha and five others were on Tuesday remanded in 14 days judicial custody in connection with the intermediate toppers scam.
Special vigilance judge Raghvendra Kumar Singh passed the order after the seven were produced in his court in the wake of the special investigation team, probing the intermediate toppers scam, slapped charges against them under the provisions of Prevention of Corruption Act, 1988.
"The court has sent both Singh and his wife to Beur jail in Patna," a police official told Rediff.com.
Lalkeshwar and Usha, a former Janata Dal-United MLA, besides Prabhat Jaiswal who had provided refuge to them for over a week when they went into hiding, were produced before the court a day after they were arrested from Varanasi in connection with the scandal. They were brought to Patna on Tuesday on transmit remand.
Four other accused - Kumari Shakuntala, principal of Rambriksh Benipuri Mahila Vidyalaya, Muzaffarpur; Rita Kumari, a teacher of Gandhi Higher School, Bharwal, Muzaffarpur; Nandkishore Yadav, a committee member of Kishun Rai College, Bhagwanganj, Muzaffarpur; and Nishu Singh, of Bidupur in Vaishali district, were arrested from different places by the SIT and were also produced in the vigilance court.
All the seven accused have been booked under various sections of the Indian Penal Code and Prevention of Corruption Act, 1988.
The scam had rocked Bihar earlier this month after Ruby Rai, a student of Vishun Roy College in Vaishali district who had topped in the arts category, failed to answered basic questions and went on to describe political science as 'prodigal science' that taught cooking.
Embarrassed by the irregularities, the state government had ordered a SIT probe in the matter during which Bachcha Rai, the principal of VishunRoyCollege, was arrested besides some other accused persons.
The SIT subsequently booked Lalkeshwar and his wife Usha, a former principal of the Ganga Devi women's college in Patna, in the intermediate toppers scam, but the couple dodged arrest and went underground for over a week before being finally arrested from Varanasi.