The state government decides to take over the management of all shelter homes after incidents of sexual abuse surfaced in Muzaffarnagar, reports M I Khan.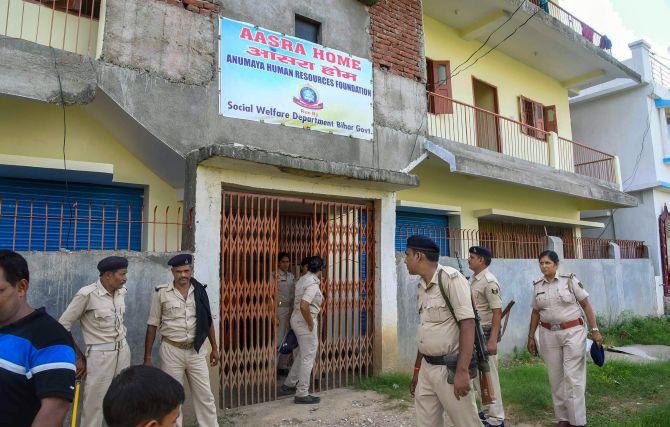 After the outrage over the rape of 34 minor girls at a shelter home run by an NGO in Muzaffarpur, the Bihar government's social welfare department has decided to take over the administration of all shelter homes across the state, replacing the NGOs, officials said on Tuesday.
According to officials of the social welfare department, it has annulled the selection of 50 NGOs, conducted recently for running the government shelter homes.
The department will take over the management of all the shelter homes in the next three months. Till then, the NGOs will continue to run these shelter homes.
"The shelter homes across the state will function under the direct control of the department. There will be no role for NGOs in running and managing shelter homes," a senior official of the department said.
Earlier this month, Chief Minister Nitish Kumar had announced that the state government will directly run all shelter homes, replacing the NGOs.
"No shelter home will be given to NGOs and the government will provide everything, including staff and premises for it," he had said.
Soon after the Muzaffarpur case, the death of two women inmates at a shelter home in Patna further exposed functioning of shelter homes by NGOs.
A 100-page report by Tata Institute of Social Sciences, Mumbai, that was made public following a Supreme Court order, revealed the sorry state of shelter homes run by the NGOs in the state.
Over 100 NGOs are still running shelter homes across the state despite the TISS report stating that sexual abuse, varying in forms and degree of intensity, was prevalent in almost all shelter homes in Bihar.
The state government had commissioned an audit by the TISS in 2017 and the report was submitted to the social welfare department in April this year.
It was the TISS report that pointed fingers at the shelter home (Balika Girih) in Muzaffarpur run by Brajesh Thakur, who is now the main accused in the case.
Thakur has been jailed along with nine others in the case.
The probe also pointed fingers at Bihar's Social Welfare Minister Manju Verma, who resigned after pressure mounted on her following media reports revealing that mobile phone details of Thakur showed that he had spoken to her husband 17 times from January to June this year.
The Opposition is now training its guns on Urban Development Minister Suresh Sharma, over his alleged involvement in the case.
Sharma has repeatedly refused to resign, and denied any involvement in the case.