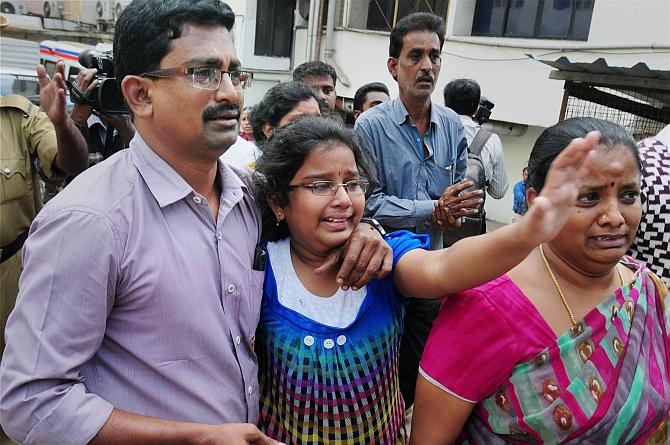 Image: Family members of Bhawani Bala, the deceased in the Bengaluru blast, mourn outside a hospital on Monday. Photograph: Shailendra Bhojak/PTI

The family of the Bengaluru blast victim Bhavani is shattered by her death and has asked the Karnataka government and Centre to take steps to stop recurrence of such terror attacks.
"My appeal is that the government should think about this (blasts) and take steps to stop its recurrence. Life is too precious to be snatched away like this. For victims' kin, it is pain that will stay with us for the rest of their lives," Bhavani's husband N Balan told PTI.
Bhavani's death in the blast on Sunday night outside a restaurant came as a rude shock to the family. "She was supposed to be back in Chennai today. I had already booked tickets and given it to her," a sobbing Balan said.
A trader in tyres, Balan said his wife along with their two children had gone to Bengaluru to his brother's house on Christmas vacation. "It was my son Narayanan, a Std X student at DAV School and brother's son Karthik who carried her away from the spot," he recalled.
The couple got married in 1998.
Bhavani's body is being brought by road from Bengaluru.

The outlawed outfit Students Islamic Movement of India's possible role has come under the scanner of investigators probing the terror attack.