At least seven persons, including three women, were killed and several others feared trapped when a two-storey building collapsed due to a suspected LPG cylinder blast near Ejipura in Bengaluru on Monday.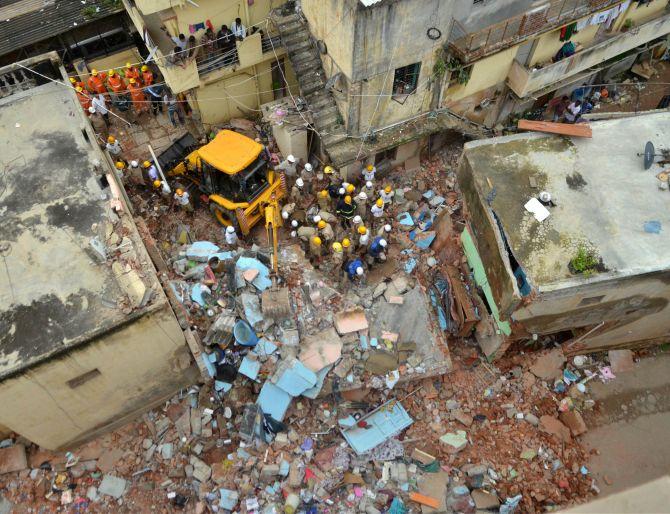 IMAGE: Fire personnel carry out rescue work after a building collapsed due to a suspected cylinder blast at Ejipura area in Bengaluru. Photograph: PTI Photo
Eyewitnesses said the blast took place at around 7 am, bringing down a large portion of the 20-year-old building.
Fire brigade and National Disaster Response Force personnel, who rushed to the spot, recovered the bodies, including those of the three women, the police said.
The deceased have been identified as Kalavathi (68), Ravichandran (46), Prasad (18), Ashwini (28), Saravana (18), Maladri (25) and Sarva Kalyan (19).
The government has announced a compensation of Rs 5 lakh each for the kin of the deceased.
The police said 3-year-old Sanjana, who was rescued from the debris, had sustained 60 per cent burns and was in a critical condition. She was admitted to the Victoria Hospital.
Along with the child, Janaki, 26, was also undergoing treatment for the burn injuries she received in the incident, the police added.
Karnataka Home Minister Ramalinga Reddy, who visited the spot of the building collapse, told reporters that the structure belonged to one Gunesh, who had rented it out to three families.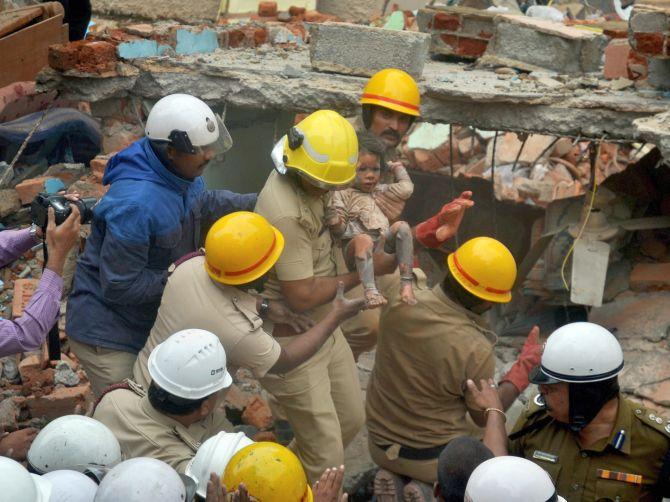 IMAGE: Fire personnel rescue a child from the debris. Photograph: PTI Photo
"Two families were residing on the ground floor, while one was on the first floor. Kalavathi and Ravichandran were on the first floor. They died on the spot, while two children were injured," the minister said.
Bengaluru Mayor R Sampath Raj, however, said four families were residing in the building.
At least 40 fire-fighters and NDRF personnel were engaged in the rescue operations.
Three fire-fighters were also injured when a wall caved in on them while they were clearing the debris to pull out those trapped, the police said, adding that they had been shifted to a nearby hospital.
The bomb disposal squad has also been pressed into service to ascertain the cause of the blast.