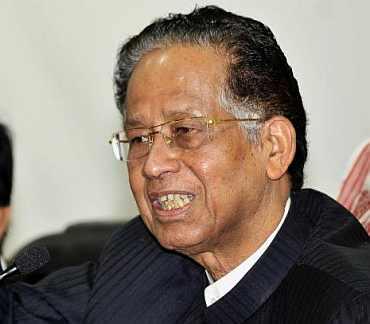 Assam chief minister Tarun Gogoi has stated that backward state of Assam and the Northeast region as a while need more fund from the Centre instead of frequent visits of Union ministers, a new and unprecedented trend since Independence.
Gogoi said that the frequent visits of the Union ministers would not benefit the state as well as the region, unless the Centre gave adequate fund for the region's development.
Gogoi said that the regular visits of Central ministers were a new trait never witnessed since independence.
"But Assam has not benefitted from their visits as they are paying only lip service," Gogoi said.
"It seems that the visiting Union ministers, instead of extending helping hand to the State, are more interested in destabilising the democratically elected state government," Gogoi added.
"The present Central government has turned its back on the existing schemes and programmes. Moreover, Assam and other North Eastern states are also hit hard by the cuts in financial assistance from the Centre," Gogoi said.
He accused the Centre of denying the 'special category states' status to Assam and other NE states and commented these actions on part of the present Central government would slow down the economic progress of the region and would have adverse impact on the poor and down-trodden people of the region.
Union Finance Minister Arun Jaitely recently commented that the Northeast States were stand to get more fund that earlier in tune with the 14th Finance Commission Award even though their special category state status had been done away with.
The Bharatiya Janata Party government led by Prime Minister Narendra Modi has a standing instruction to all the Union ministries that at least one Union minister should be touring the far flung Northeast every fifteen days to take stock of the implementation of various Centrally-sponsored schemes in the region as well as to gather information on development needs of the people of the region.