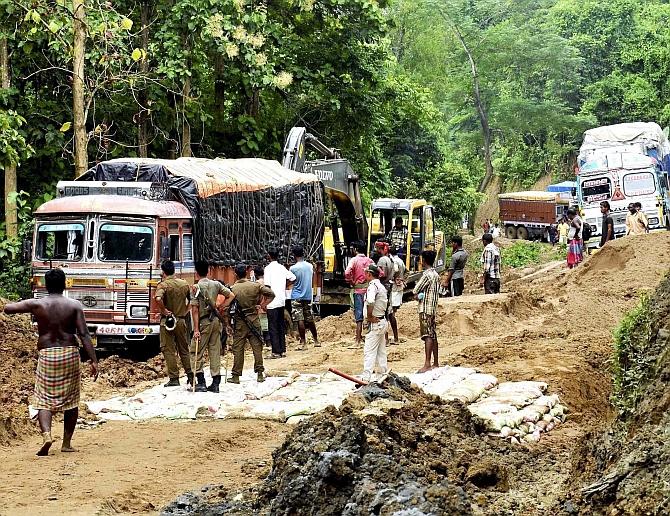 Incessant downpour over the past couple of days has triggered landslides and floods in several districts of Arunachal Pradesh throwing normal life out of gear.
Besides damaging culverts and some buildings, the floods and mudslide submerged low-lying areas and a rural link road and disrupted power supply.
Seijosa and its adjoining villages in East Kameng district remained cut off from the rest of the state due to landslides triggered by torrential rain.
The rains also caused landslides at many places at Talom Riktak village under Taliha Circle of Upper Subansiri district, an official report from Daporijo said.
The flood situation was grim in Namsai district with Noa Dihing and its tributaries flowing above the danger mark, DC R K Sharma said.
In Lohit district, though all the rivers were flowing turbulently yet they were below the danger level, DC Danish Ashraf said.
Renu Kino, Anchal Samiti chairperson of Seijosa and adjoining villages of East Kameng, said that huge debris deposition caused by the rainfall has damaged many culverts and constructions.
With the public works department having no earth movers and loaders, it was former minister Atum Welly who pushed in two heavy earth movers and loaders to clean the blockades from check gate to Goloso, Kino said.
The landslides at Upper Sbansiri district also caused damage to one government building besides a garage, official reports said.
Many domestic animals were also reported to be washed away in the mudslide, the report added.
A report from Tezu, Lohit district headquarters, said many low lying areas in the district were submerged by flood water.
The Lohit DC has directed all administrative officers, water resource department officials, state police and the disaster management cell to keep strict vigil on the flood situation.
According to the report, electricity lines at Changliang from Durra Nala micro hydel project have been damaged while the PWD rural link road was eroded threatening Changliang village which falls under Tezu circle of Lohit district.
Restoration of power supply was taken up on war footing by the electrical department while man and machinery under the supervision of WRD were also pressed into service to plug in the over-flooding of Durra river towards Changliang village but due to inclement weather, restoration work could not materialise, the reports said.
Image used for representation purpose only