Voicing concern over recruitment of educated Kashmiri youths into terror outfits, a top army commander has said that eyes cannot be shut to the "tragedy" that "alienation and lack of opportunities" was driving local youngsters towards the gun and the Centre and the state government need to introspect to address these issues.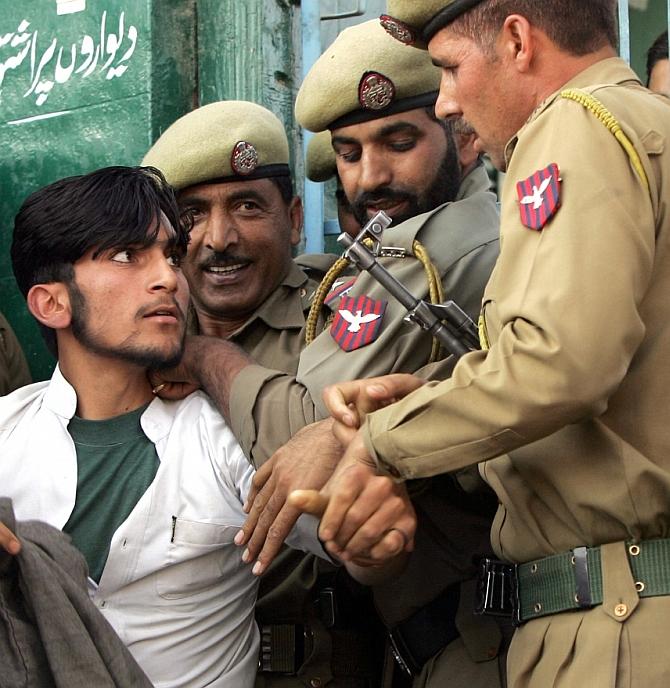 General Officer Commanding In Chief (GoC-In-C), Northern Command, Lt Gen D S Hooda also said that while incidents of ISIS flags being raised during protests in Kashmir have been witnessed, there weren't any intelligence reports to suggest large foot-prints of the dreaded Islamic terror group in either in India or in Kashmir.
At the same time, he said that there are attempts to attract the youth by such groups through social media which is having "some impact" and steps are needed to counter it.
The Army commander said "the numbers (of new militant recruits from Kashmir) are not very high as of now but if this trend goes further I think it will be tragic for Kashmir and also a matter of concern."
"As per our assessment, nobody has successfully infiltrated from across the border this year. That is why it is a greater concern that you know internal recruitment is taking place. That is matter of serious concern," Hooda said in Udhampur.
Lt Gen Hooda was replying to questions on recruitment of educated local youths in terror outfits and the reason behind this trend which had not seen in past several years.
"What we have is that last year, the figure was somewhere 60 (operating in militants outfits in Kashmir Valley) or little more than that.
"This year the information we have is more than 30 (Kashmiri youths) have already joined (militant outfits locally)," he said.
"So as I said that the numbers are not too many, but the fact remains that it was down to single digit during two or three years. In that sense it is something that we need to look at seriously," he said.
The Army commander felt that "alienation and lack of opportunity" were the reasons for Kashmiri youths picking up gun.
"I think, one of course, there is sense of alienation. Let us not hide it or shut our eyes to it".
"There is lack of opportunity and social media has become such a powerful medium and a tool where through people are getting engaged. They are looking towards (terror), as they have nothing to do rather pick up a gun", the commander said.
Lt Gen Hooda said, "Frankly, it is something that we need to introspect.
For us, the government here and the Centre, the parents and society, as to what are the reasons that the youth are going into this direction and is there some way to stop this."
"The manner, in which they (terror groups) use social media and how they manage to engage the youth, is serious. So these are issues we need to look at more seriously," the Army commander said added.
He termed the trend of recruitment of Kashmir youths in militant ranks as a "new tragedy" for Kashmir.
"As far as recruitment of youth is concerned, I view it as a tragedy.... Although the numbers are not very large, but it is tragedy where you have young people who unfortunately pick up the gun.
"They are not very well trained. We are seeing incidents of these people being killed in encounters with security within days not in months," he said.
"Frankly, it is to bleed the young... The numbers are not much as of now and if this trend goes further I think it tragic for Kashmir and also a matter of concern," he added.
He said it concerns issues other than the security situation which need to looked at in terms of "radicalisation, youth engagement, development and how we can address these issues".
Hooda said "there is sense of alienation also. We cannot get away from it. These are issues which need to be addressed much more seriously rather than purely looking at the numbers that we have killed so many militants and some other things on the security front. I think those are issues".
On ISI, he said, "We don't see intelligence reports to suggest large foot-prints of ISIS in either in India or in Kashmir. We do not see that. Yes few people have carried few flags."
He said, "There are organisations which run on sophisticated social media campaign. Their magazines are coming out... Definitely, there is an attempt to attract youth towards them and if somebody is watching it, we cannot 100 per cent say absolutely that there is no impact. There is and there is some impact. Social media and reports are what we need to look at."
The state police and security forces are stumped by the new challenge of militants being locally recruited and are concentrating on two axis in South and North Kashmir.
The axis from Tral, Batapora, Panjgaon and Yaripora in South Kashmir is witnessing dominance of terror group Hizbul Mujahideen, while in the other axis from Palhalan to Sopore this group as well as few militants of Jaish-e-Mohammed are calling the shots, say police officials.
Security analysts said that local recruitment, which had come down to a trickle, has picked up suddenly from January this year.
Since March this year, nearly 50 boys have reportedly vanished from the Valley with Awantipora in South Kashmir accounting for nearly 15 of them followed by Kulgam (nine), Shopian (seven), Anantnag (eight) and 11 from North Kashmir.