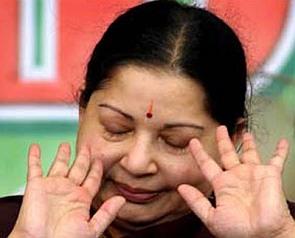 The process of filing the appeal in the Supreme Court against the acquittal of Tamil Nadu Chief Minister Jayalalithaa in the disproportionate assets case might take at least two weeks or more, counsel B V Acharya, appointed by Karnataka government, said on Tuesday.
"I am not quite sure but the process will take, may be two weeks or even more because there is a lot of paper work involved," said Acharya, who was the Special Public Prosecutor in the case in the state high court which cleared Jayalalithaa and three others of all charges.
Moreover, there are so many other legal requirements which had to be adhered to before filing the appeal, which takes time, Acharya said.
The state government, the sole prosecuting agency in the case, has decided to file an appeal against the May 11 high court order acquitting Jayalalithaa, which paved the way for her return as chief minister of the neighbouring state.
Meanwhile, State Law Minister T B Jayachandra said the government will take further steps in a week's time with regard to the filing of the appeal.
"Three days back, I had reviewed (the process of filing the appeal in the Supreme Court). I think in another week's time, we will take (further) steps," he told reporters.
Jayachandra said the government had issued order in this regard and there was nothing left with it, besides appointing Acharya as SPP and Sandesh Chowta as his assistant.
"We have already issued the order. There is nothing left with us and we have already appointed the SPP and Chowta as Acharya's assistant," he said.
In addition, the government also has appointed senior Supreme Court advocate Joseph Aristotle as the advocate-on-record, Jayachandra said.
Jayalalithaa was acquitted by the Karnataka high court on May 11 in the 19-year-old case. The Special Court had sentenced Jayalalithaa and three others to four years in jail and slapped a fine of Rs 100 crore on her and Rs 10 crore each on others.